Actor-turned-director Mario Van Peebles will be taking on a new role later this month: he will be the latest victim of love for All My Children's Erica Kane. The 51-year-old actor has signed a contract that will take him back to daytime television for the near time in 25 years.
What's your take on Van Peebles' hiring as a love interest for AMC's Erica?


It's great. Van Peebles is a fine actor and will sizzle with Susan Lucci.
53%
I don't really care for Van Peebles and I'm not thrilled he'll be AMC.
27%
I like that AMC hired Van Peebles but I don't want him as Erica's lover.
13%
I have no opinion on Van Peebles' addition to AMC at this time.
2%
I don't believe that AMC plans to pair Van Peebles and Lucci romantically.
2%
I am not familiar with Van Peebles, so I am anxious to see what he's about.
2%
Other
1%
Poll Posted: January 9, 2008
Van Peebles will play politician and Senator-wannabe Samuel Woods. During the campaign,
Erica Kane
(played by Emmy winner
Susan Lucci
) invites Woods to be a guest on her talk show, New Beginnings. According to a show spokesperson, Woods will be Erica's "worst nightmare." In true soap fashion, the two quasi-enemies could eventually see their resentment for one another turn into passion.
In 1982, Van Peebles appeared in a handful of episodes as Doc Gilmore on ABC's One Life to Live. From there he went on to star in films such as Jaws: The Revenge, New Jack City and Ali.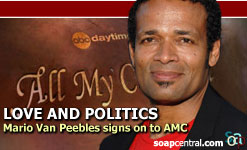 The addition of Van Peebles to the All My Children cast is seen as another boost to the show's desire to add diversity to its roster. Last month, the show announced that Darnell Williams and Debbi Morgan would be returning to the show as Jesse and Angie Hubbard, daytime's first African American supercouple.
Mario Van Peebles is worked as an actor, producer, director and writer during his career. He is the son of actors Melvin Van Peebles and Maria Marx. His work over the years has earned him numerous awards, including an NAACP Image Award and the Philadelphia Film Festival's Audience Award.
Van Peebles makes his All My Children debut in January 29th.
Elizabeth Lee also contributed to this article.