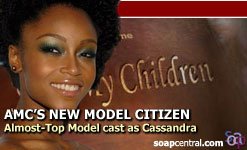 While it is nothing new for models to get their big acting breaks in daytime television, those big breaks usually seem to befall male models. Starting later this month, a female model breaks the mold on All My Children. Model-slash-actress Yaya DaCosta has been signed to play the contract role of Cassandra Foster, the daughter of Angie Hubbard and her former husband Jacob Foster.
DaCosta rose to fame during the third cycle of the reality series America's Next Top Model. In the reality competition, created and hosted by supermodel Tyra Banks, DaCosta placed second behind winner Eva Pigford.
While she didn't win the top prize, Top Model provided a springboard for DaCosta's modeling and acting careers. She went on to appear in advertising campaigns for Sephora and Olay. Though a newcomer to serial television programs, she has appeared in a handful of movies. She made her feature film debut in 2006's Take the Lead and appeared most recently in The Shanghai Hotel.
What are your thoughts on the addition of YaYa DaCosta as AMC's Cassandra?

It's great. I'm a fan of YaYa and can't wait to see her debut on AMC.
39%
As of this moment, I don't care about Cassandra -- but that could change.
20%
I don't care for YaYa and really don't want to see her on AMC every day.
17%
I like that the show has decided to give the Hubbards another storyline.
11%
I am unfamiliar with YaYa, but I am willing to give her a chance.
6%
I like Jesse and Angie, but don't want to see another new character.
4%
I'm not really a fan of Jesse and Angie and don't care about Cassandra.
2%
Other
0%
Poll Posted: April 3rd, 2008
DaCosta is more than just another pretty face. She received an Ivy League education, graduating from Brown University having double-majored in International Relations and African Studies.
"Don't expect the family reunion to be all roses, though," an All My Children spokesperson teases. "Cassandra will be pulled into the sinister plan Rob [Gardner] has for Jesse.
Additionally, look for Cassandra to be an eventual romantic interest for Dre.
DaCosta makes her daytime television debut on April 25th.
Photo Credit: Dimitrios Kambouris
---

RELATED STORY
Top Model Eva Pigford lands role on Y&R.
---