Not to belabor the point, but this year's Daytime Emmys truly was a sizzling hot experience. An unofficial reading on the Red Carpet had the temperature at nearly 120 degrees in the sun. Even under the Soap Central umbrella -- the coolest place on the Red Carpet -- it still felt like the triple digits.
As stars arrived to chat up their nominations, the new roles, or just the soap business in general, invariably their greetings would include a "How are you?" With sweat pouring off of everyone's foreheads, how else was there for Soap Central's Dan J Kroll to reply but "hot"?
"You are hot," Marcille replied, shifting weight to her right foot and leaning back to take a look at Kroll. "You know, a lot of people say they're hot... but you really are!"
Marcille knows more than a little bit about what it means to be hot. Then known as Eva Pigford, Marcille endured the grueling thirteen-week audition known as America's Next Top Model. Marcille was named the winner of the third cycle of the reality series, an accomplishment that catapulted her to stardom. In addition to the modeling gigs and ad campaigns she booked following her Top Model appearance, Marcille also earned a chance to flex her acting muscles. She has appeared in several primetime series and a handful of movies.
In 2006, at the peak of her popularity, Eva Pigford decided that it was time for a "new start" and she changed her name to Eva Marcille. Her new "last" name is actually inspired by a tweaking of her middle name, "Marcelle." At the same time, Marcille also opted to change management, leading to tabloid speculation about a falling out with Top Model producer Tyra Banks.
With the niceties out of the way, and Marcille now ranked as one of the favorite celebrities of the night, it was time to dish the dirt about the former Top Model's new role on The Young and the Restless, a television show that she'd grown up watching. Marcille made her Y&R debut on June 25th.
"My character's name is Tyra," Marcille explains. "So that's kind of weird. I had a daughter as a very young age. We're from Seattle and I kind of fell on hard times and now I've moved to Genoa City, where my only family is Devon. I come there trying to seek refuge... and there's drama."
Story outlines make Tyra sound like a possible romantic interest for Neil Winters. But at last check, Neil already had a love interest. So it warranted asking if Marcille's alter ego might be a homewrecker.
"N-uh, well..." Marcille says as she mulls her response. "She's a good girl at heart!"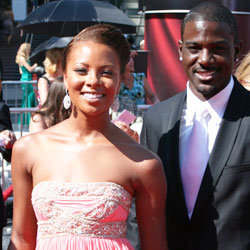 Marcille, with boyfriend Lance Gross
With the possibility that Drucilla Winters isn't really dead, fans know that she could always pop back up in Genoa City in the future. As soaps go, her return would probably be best timed for, say, Neil and Tyra's wedding day - not that the two will necessarily be married.
"If she does [come back from the dead], it's gonna go down!" Marcille growls, a look of eager anticipation creeping across her face.
Perhaps Marcille misses the competition and revels in an opportunity for another on-screen battle. If that's the case, Marcille has unwittingly put herself in a rematch, of sorts, with a former Top Model nemesis. YaYa DaCosta, who finished second to Marcille on Top Model, currently appears as Cassandra Foster on ABC's All My Children. AMC airs opposite the final half-hour of The Young and the Restless in most markets.
Despite her name change and a desire for a new start, Marcille knows that she will always be known for her Top Model appearance. Rather than disavowing her big break, Marcille is willing to discuss her past. What is the big difference between her role on a soap and waiting to hear her name called by a supermodel?
"It's fictional," Marcille laughs. "And, ooh, it's way better that way, let me tell you."
Photo: Dan J Kroll/Soap Central

MORE RED CARPET EXCLUSIVESOLTL star talks about her character's teenage pregnancy storyline..


MORE RED CARPET EXCLUSIVESGL star talks about the dramatic changes undertaken by Guiding Light this year.