17-year-old Kristen Alderson (Starr Manning) has appeared on One Life to Live since she was six years of age. During that time, she's had more than her share of typical soap opera storylines. She's had feuding parents, been kidnapped by her father, and charged a delivery of horse manure to a credit card she had stolen. Earlier this year, however, Alderson was given the opportunity to do something she hadn't done before - play out a surprisingly grown-up story. Alderson chatted with Soap Central's Dan J. Kroll at this year's Daytime Emmys and the two had the chance to talk about her first adult storyline.
"It's a very adult storyline," Alderson agreed. "As far as being a 16-year-old and pregnant... being pregnant is an adult thing, but a lot of teenage girls go through that. 750,000 teenage girls every year get pregnant."
The figures Alderson cited seems unrealistic at first, but amazingly the young actress is right on the money. Though the rate has declined in recent years, a new study shows that teen pregnancies are at a 15-year high. A March of Dimes study confirms that more than 750,000 teenagers become pregnant each year and about 420,000 give birth. Pregnant teens aged 15 to 19 are less likely to get prenatal care and gain appropriate weight, experts say. They are also more likely smoke than pregnant women aged 20 years or older.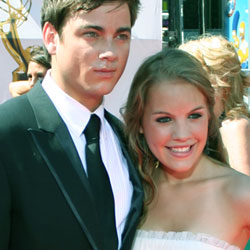 Alderson, with co-star Brandon Buddy (Cole Thornhart)
"It's a very big issue and we feel very honored to be doing such a powerful storyline and hopefully educate some viewers about teenage pregnancy because it's a very big issue and it [can be] scary."
From the mail being generated by the storyline, One Life to Live has definitely made a connection with its viewers. While some of the viewer feedback has been critical of the unwed, underage pregnancy plot, the story has hit close to home for many viewers. When asked if she has received letters from young fans who are going through real-life situations similar to what the fictional Starr is going through, Alderson nodded affirmatively.
"I've gotten a million letters, which is great," Alderson explained. "I mean the most important thing is that we've gotten teenagers and their parents to really talk about the issue and ask the important questions. 'Do you have a plan? What are you going to do? Is this the right time for you?' And they have gotten so much closer to their parents and it warms out hearts to hear that."
Teenage pregnancy is certainly nothing new. While it may not be as taboo of a topic as it used to be -- the film Juno, which revolved around a teenage pregnancy, was nominated for an Academy Award earlier this year -- it is still a subject that many people would rather not see on television. Couple an already touchy subject with another sensitive issue -- abortion -- and there is definitely possibility for controversy.
"It's scary because we don't know how the fans are going to react," Alderson admitted. "Of course many fans have different views on things and you don't want anybody to get the wrong idea because it's the writers [that developed the storyline] and not you."
Where One Life to Live will excel, Alderson noted, is in its ability to tell the entire story of Starr's pregnancy. Whereas a movie like Juno told its story in just over 90 minutes, One Life to Live viewers will see Starr's saga unfold over nine months.
And how does the show plan to move forward?
"As carefully as possible," Alderson laughed. "It's going to be very emotional and I think that the viewers will be very pleased."
Photo: Dan J Kroll/Soap Central

MORE RED CARPET EXCLUSIVESGL star talks about the dramatic changes undertaken by Guiding Light this year.


MORE RED CARPET EXCLUSIVESFormer Top Model winner talks about her name change, her new role on Y&R, and a little gossip.



---