As the sun beat down on the Red Carpet at this year's Daytime Emmys, Guiding Light star Marcy Rylan (Lizzie Spaulding) looked cool and beautiful in a dress that started off white before flowing into shades of blue.
"You look beautiful, sort of coastal like the sea -- even if it is 600 degrees," Soap Central's Dan J. Kroll chuckled as Rylan made her way over.
"I was thinking we were going to be in Los Angeles and I should get ready for the summer," Rylan replied, explaining how she came to choose her dress. "And it is 600 degrees. It's actually a record."
Before either Rylan or Kroll shriveled up like shrinky-dinks in the scorching heat, it was time to get right to business. Two different issues have been the talk of the soap world since the Emmy nominations came out in April. The first was Guiding Light's dramatic new filming technique. Fans either seem to love it or hate it. The second has to do with how Guiding Light, a show that is at the bottom of the rating's heap, can somehow be nominated for Outstanding Drama Series. Rylan took the questions in stride and answered both in one sweeping statement.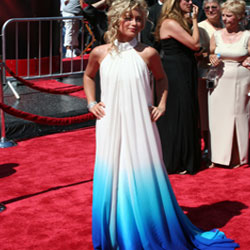 Rylan on the Red Carpet
"We've gone through a lot of changes this year. We've changed our shooting style completely," Rylan offers. "And like anything, when you have something that's been the same for a really long time and then it changes, people don't know how they feel about it. So that would be why I would feel that the viewers aren't tuning in as much. It's so new, and it's weird. But I think that they are going to adjust because it's really looking great. The storylines are so great and the acting is really great. That's why we got nominated for best show."
It isn't just the filming technique that is different. Rylan notes that the new production format allows the show to be a lot more realistic. Gone are the days where a character needs to turn towards the camera at the end of a scene for the stereotypical soap opera stare.
"Personally, I like [the new filming format] better," Rylan says. "Just to give you an example of why I like it better: When the cameras were the way they used to be, we would play out towards the cameras and sort of have the conversation out [towards the audience]. And now we can be right here talking like normal people and the cameras find you. So it's a more natural feel."
As she stepped out of the shade provided to her during the interview by the Soap Central umbrella, Rylan looked back, fanned herself with her hands and laughed.
"It's actually 600 degrees!"
Photo: Dan J Kroll/Soap Central
RELATED STORIES:
MORE RED CARPET EXCLUSIVES: OLTL star talks about her character's teenage pregnancy storyline..
MORE RED CARPET EXCLUSIVES: Former Top Model winner talks about her name change, her new role on Y&R, and a little gossip.