What's a single girl to do? How do you handle it when all your girlfriends abandon you for their new boyfriends, and you've got nothing left but their pity -- if and when they pay attention to you at all? You make new friends, of course! Even if you have to make them up.
Imaginary Bitches is a new webisodic series from the warped and witty minds of actress and muse Eden Riegel (ex-Bianca Montgomery, All My Children), and her newlywed husband, series creator, director, and head writer Andrew Miller. Backing them up are a posse of friends and family chipping in as actors, crew members, ad hoc caterers, and film editors. All of them are working for free.
Starting a new series online is the cutting edge of artistic endeavor. "This is the future of the entertainment industry," says Riegel, who notes that having no corporate oversight on the project allows for an "incredibly creatively satisfying" work experience.
The online series, which debuted in May, revolves around the life of "a single girl who feels so abandoned by her friends who are in serious relationships that she has to make up new friends to talk to - who end up being real bitches," explains Riegel.
Riegel plays "Eden," a twentysomething so sweet, mannerly and unassertive that she assumes she has no voice and no control over her relationships. In reality, the secret world of her imagination reveals quite a backbone. Her inner voice speaks through two imaginary friends: bitchy Catherine and sex-crazed Heather. Each "friend" offers her opinion about "Eden", her friends, and everyone's business. Those opinions are as on point as they are bitchy.
Riegel's own ladylike demeanor inspired Miller when he created the fictional Eden. "When I curse, or say something off-color, it still doesn't quite fit, and I'm a little embarrassed by it," she explains. "I have kind of a squeaky clean image, but for the longest time I would hear these sort of bitchy voices in my head, and I would silence them. I would say, 'don't say that, that's mean.'" Miller finds Riegel's discomfort hilarious, and incorporated that into the character. Watching Eden squirm while reciting the incredibly rude, cheerfully vulgar thoughts of her imaginary bitch buddies to her real buddies, is one of the chief joys of the series.
Joining Eden's imaginary on-screen friends are some of Riegel's real-life friends, Elizabeth Hendrickson (Chloe Mitchell, The Young and the Restless; ex-Maggie Stone, AMC) and Connie Fletcher Staton (ex-Erin Lavery, AMC) play "Eden's" real friends. Greg Rikaart (Kevin Fisher, Y&R) plays Mark, the definitive bad blind date. Jessalyn Gilsig (Shelley, Friday Night Lights; Meredith, Heroes) also appears.
Behind-the-scenes, Riegel's sister, Tatiana S. Riegel, does the film editing. Even Eden Riegel got involved in the production aspect of the series, as the actress ran around buying props before the shoot began.
It's a tangled thread that connects all the players. Riegel and Miller were introduced by Riegel's former AMC co-star, Cameron Mathison (Ryan Lavery), who went to high school with Miller. The Millers married in the fall of 2007. Gilsig and Miller both went to McGill University in Montreal. Rebecca Budig (Greenlee Smythe, AMC) is a neighbor of Rikaart's, and introduced him to Riegel and Miller. Hendrickson, Staton and Riegel are all AMC pals. Eden and Tatiana Riegel are, of course, sisters.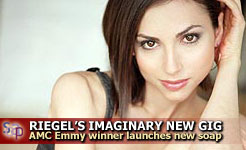 While daytime soaps are increasingly facing shrinking budgets, Imaginary Bitches has no budget to work with at all. The Millers' real life Los Angeles home is used for sets. Their backyard patio is the café. Hendrickson's apartment is used for another set. Producing the show "costs nothing," laughs Riegel. "It literally cost two hundred dollars. We had to provide craft services to the crew, which is all of my friends and family!"
How did they get everyone to work for nothing?
"I just begged like crazy!" says Miller.
"We get paid in delicious guacamole and Hershey's Kisses," jokes Gilsig.
"It sort of feels like a party, but there are cameras rolling," explains Riegel.
"I jumped at the opportunity to do this script," enthuses Rikaart.
The first season has thirteen webisodes. Seven have been posted so far, and the remaining six will begin July 1st. A third imaginary bitch will be introduced during the second half of the first season. Imaginary Bitches has now been seen by over 1.5 million people, and the cast and crew are ready, willing and able to begin shooting a second season, if the fans want them to.
"People are making comments, and it seems the show is really speaking to people," says Riegel. "There's something about (it) that can resonate" not only with single girls, but with everyone. Being in touch with your own point of view, and learning to express it, is a powerful message.
Riegel, a Daytime Emmy winner for Outstanding Younger Actress in 2005, has kept herself busy since leaving her full-time gig at AMC in February 2005. In addition to a host of special returns to the ABC soap and her work on Imaginary Bitches, Reigel also found time to film the feature film Year One, starring comedian Jack Black. Year One is slated to open in theaters in 2009.
Watch Imaginary Bitches online, and shop for official IB products like tee shirts, mugs, thongs and ringtones, at www.imaginarybitches.com.