Alicia Minshew (Kendall Hart) and ABC executives have come to terms on a deal that will keep the popular actress in Pine Valley for some time to come. As part of the new contract, however, Minshew will be leaving All My Children for most of remainder of 2008.
Fear not, though. The actress will be back and some behind-the-scenes planning will make sure that fans don't go too long without seeing their favorite heroine.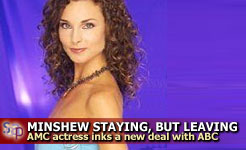 As part of the contract deal, Minshew requested that she be given two months off from All My Children. As previously reported, Minshew and fiancé, Richie Herschenfeld, are scheduled to get married on October 26. The break will allow the actress to take a honeymoon, enjoy the newly married life, and get some much needed rest and relaxation after having been front-and-center on the ABC soap for as long as anyone can remember.
To accommodate Minshew's time off, her character will be seriously injured in All My Children's upcoming tornado storyline. The injuries Kendall sustains in the wicked weather will leave her comatose. The show has been pre-taping scenes out of their normal sequence so that Minshew will not be off-screen for her entire two-month hiatus.
In August, Soap Central first reported on the back-and-forth negotiations between Minshew and ABC. Fans feared that All My Children's shrinking budget might make it hard for the show to re-sign Minshew.
"[M]y main priority is a better schedule and a little vacation time to enjoy my soon-to-be husband. That is it! I am doing just fine and have never made an issue about money," Minshew assured fans in a posting on her official fan site. "AMC is being good to me and trying to work out my schedule and honeymoon vacation. That is it. These things take time."
To fill the void left by Kendall's coma, All My Children has arranged for Eden Riegel (Bianca Montgomery) to return to the show -- for four months. For more on Riegel's return, click here.