All My Children has answered the question boggling fans' minds for several weeks. We now know the identity of "Brody," a role first talked about in a casting call a few weeks back. The "sexy, All-American" male is none other than a former Pine Valley resident. Newcomer Adam Mayfield joins the cast next month in the role of Scott Chandler, the adoptive son of Stuart Chandler.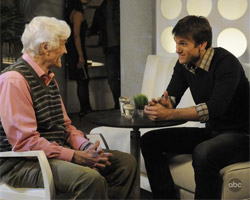 Four other actors have portrayed Scott over the years. The first, Philip Amelio, originated the role in 1988. Back then, Scott was the young son of Cindy Parker. Cindy died of AIDS-related complications and Stuart adopted the boy. Eventually, Scott grew into a teenager and Shane McDermott took over the role. By 1996, Scott had matured into a young adult. Daniel Cosgrove assumed the role, but remained with the ABC soap for just two years. In 1999, Forbes March put his touches on the role. March exited AMC in September 2000, and Scott has been seldom mentioned since.
Where has Scott been since heading off to film school over eight years ago? ABC teases that there is "much more to be revealed" as Scott is reintegrated into the show. Don't expect there to be much integration between Scott and his cousin, JR.
Mayfield joins the All My Children cast with several primetime roles under his belt. He has previously appeared on Girlfriends, Boston Public, and Just Shoot Me.
Mayfield makes his first AMC appearance on April 9.