All My Children fans can finally exhale. The so-called "impasse" between Thorsten Kaye (Zach Slater) and show executives has been broken. The three-time Daytime Emmy-nominated performer has signed a deal that will keep him in Pine Valley. Exactly how long he'll be staying, though, is still a bit of a mystery.
Word of Kaye's deal first surfaced last week on the actor's official web site, where a message from the site's webmaster read, "I talked to Thorsten, and he gave me the word to post that he'll be staying on AMC awhile longer!"
A few days later, the New York Daily News offered additional details -- as well as additional questions.
"I re-signed because I think we can still do a good job over there," Kaye told the News. "As long as I feel I can help the show, I want to stay."
Kaye declined to comment on the length of his contract, prompting many fans to fear that the actor will only be sticking around long enough to help the show wrap up loose ends with his character's story. Kaye also would not reveal if he'd been asked to take a salary cut like many of his fellow castmates. Word on the 'net during the nearly month-long contract stalemate was that the show would do whatever it had to do in order to keep Kaye from walking.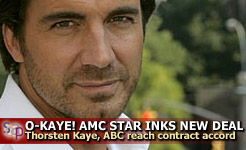 "The economy has had a domino effect on the industry," he says. "When somebody leaves a show, it affects the whole company."
Kaye joined All My Children in 2004 upon the cancellation of Port Charles, where he had appeared as Ian Thornhart for nearly three-and-a-half years. Prior to that, beginning in 1995, Kaye enjoyed a two-year run as Patrick Thornhart on One Life to Live.
During the period of uncertainty about Kaye's future at All My Children, some speculated that Kaye might rejoin One Life to Live, though a show source told Soap Central that One Life to Live execs had not been actively pursuing the actor.
An ABC spokesperson notes that it is not network policy to comment on contract talks.