When ABC announced this summer that it would be moving production of All My Children to Los Angeles, the network promised that some familiar faces from the past would be returning to the show. Fans immediately assumed that two of those "familiar faces" would be the Los Angeles-based Rebecca Budig (Greenlee Smythe) and Eden Riegel (Bianca Montgomery). Both actresses previously left their roles on All My Children because the cross-country commute was too much of a pain.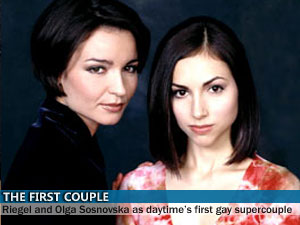 Last month, Budig confirmed that she'd be returning to the show. Now, Riegel has stepped up to announce her future plans with AMC: she has none.
"Hey guys, not-great news to share," Riegel posted on her Twitter page. "Looks like it isn't going to work out for me going back to AMC when they move out to LA. I'm very sad..."
Riegel offered no additional details on why she is unable to return to All My Children.
Eden Riegel joined the cast of All My Children in July 2000. She left full-time employment on the soap in 2005, but has returned several times since then for short-term appearances. The actress last appeared in Pine Valley in April 2009.
A spokesperson for All My Children had no comment on Riegel's announcement.
Photo Credit: ABC