Though his character has seen little in the way off meaningful on-screen time, All My Children viewers are about to see a lot more of newcomer Finn Wittrock (Damon). An All My Children spokesperson confirms that Wittrock has been placed on contract.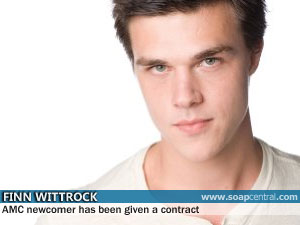 According to a show source, AMC execs saw promise in Wittrock and did not want to risk losing him as a result of the show's move to Los Angeles. As a result, the actor was offered a contract -- and Wittrock accepted.
Wittrock made his first appearance as the father of Bailey's child on October 30. Though the then-recurring role was Wittrock's first daytime role, the young star does have several prominent primetime gigs under his belt. Wittrock has appeared on CSI: Miami, ER, and Cold Case.
There's no word yet on what future stories the show might have planned for Wittrock's Pine Valley alter ego or if those story ideas might be altered now that head writer Charles Pratt has been sent packing.


In related news, Sofia Black-D'Elia (Bailey Wells) has not been given a similar upgrade. The actress remains on recurring status.


Photo Credit: Finn Wittrock