All My Children Recaps: The week of September 23, 2002 on AMC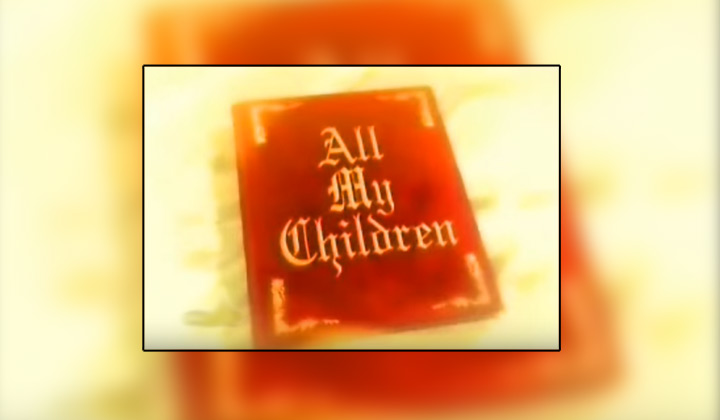 Monday, September 23, 2002
On a very, very dark night in Pine Valley, Leo and Trey drove down a lonely road in the middle of nowhere in an attempt to find Vanessa. The two men were unaware that they were being followed by Kendall and Greenlee. It took a while but Kendall eventually realized that there was an abandoned hotel at the end of the road -- and that that was where Vanessa must be being held. Trey and Leo met with Nessa and Nessa started to drop hints about where Vanessa had hidden her millions. She mentioned that it had been "buried." Outside, Kendall and Greenlee tried to sweettalk a police officer in order to gain access to the road. They failed miserably and were threatened with jail time. Later, as Nessa was closer to revealing the money's location, Greenlee crashed through the ceiling after having crawled through an air duct.
Maria insisted on speaking to David alone even though no one was pleased with the idea. There was fear that David would influence Maria's sworn testimony. David painted himself as a hero, someone who had selflessly cared for Maria in an attempt to save her life. Maria, however, didn't buy it and called David an "S.O.B." that could not be trusted.
Tuesday, September 24, 2002
Nessa was telling Trey and Leo that she dreamt about where Vanessa hid the money. They were interrupted, however, when Greenlee fell through the ceiling. After making she sure was alright, Leo realized that she was following him. The guard from outside entered the room and asked Greenlee where her "ditzy friend" was, but she didn't answer. While Leo and Nessa tried to find out more from Greenlee, Trey quietly opened the door and snuck outside. Greenlee told Leo that she was trying to protect him, but not from Vanessa. The guard tried to escort her out, but Leo told him to go call Chris Stamp and he'll vouch for her. After the guard left, Vanessa commented, "Lack of humanity. The curse of holding a Government job."
Walking in the hallway outside, Trey noticed Kendall's legs dangling from the ceiling tile. He heard her cursing out Greenlee, as he stopped and stared at her. She called out for help from the guard, and Trey decided to disguise his voice. Thanking he was a guard, she told him to help, but he said that he had to go get back-up. Kendall told him not to go, and she said that if he helps her down, she'll make him a very happy man. He helped her down, and she was surprised to find Trey. He asked her where his reward was, and she responded that he'll get his later. As she walked away, she ran into the guard who said hello to her.
Jackson questioned Anna on their chances that Maria would testify for them. She told him that they might be surprised. Jackson responded that he hopes she gives David an uphill battle. Jackson changed the subject and congratulations on her baby. She said that she hadn't had much time to think about it, and Jackson told her that it's the first time he's seen her smile. They were interrupted by a phone call from Anna's daughter, Robin. She asked Jackson to stick around as she told Robin, "I have some amazing news." After she talked to Robin, she told Jackson that she forgot how wonderful this feeling was, and he responded that he envied her. He told her that he's late for a date, and he handed Anna her purse. He said she's going with him, because he has someone he'd like her to meet. When she asked who, he responded, "Only the love of my life."
David was astounded when Maria told him that she can't trust him. He said that he saved her life, when he could have just left her. He lied to protect her. She shouted back that he was only lying to protect himself. Finally, David admitted that he did keep her a secret, because he "had to live too!" She yelled at him that she wished he had just left her to die on that beach. He told her that she doesn't mean that. She went on to confront him with all his lies, and he admitted that he had to lie because his drug wasn't approved. He said that his future was at stake, and she screamed, "What about my future?" She got him to admit that they were not in a relationship, and he never cheated on her, and she didn't kill anyone. When he said, "I'm sorry," she slapped him. His temperament soon changed, and he told her that if had known she wanted to die, he would have just left her there. He said that he wouldn't be in this trouble if he had just walked away. He went on to tell her that he is the reason she is able to wake up everyday, and he's the reason she has a choice over her life. He screamed at her, "You owe me!" She told him that he stole her life from her. He asked her what kind of life she would have had. She doesn't know anybody. She said that if he had brought her back five years ago, she might have known. He told her that he didn't know who she was. He went on to explain that bringing her back would have cost him his life. He asked her if ending his life would be worth it to her. She screamed, "I don't know!" before running out of the mausoleum.
Greenlee tried to apologize for the mess, and Vanessa told her that it was okay. She said she was hoping she would "drop in." Greenlee didn't buy it, and Nessa said that Vanessa was the one who didn't like her, but she was always fond of her. The guard interrupted, escorting Trey and Kendall into the room. He said he found the "two lovebirds" in the hallway, and he had to leave to call Chris Stamp. After the guard left, Vanessa looked frightened and asked them what Kendall was doing there. Kendall jokingly said she's here to "catch a quickie with your son." Vanessa pulled her away and screamed at her to never touch her son again. Trey and Leo were surprised by Vanessa's reaction, as Kendall asked her what her problem is. Rather then respond, she pulled Trey aside and said she had to speak to him in private. While they were talking, Greenlee pressed Leo on what Vanessa might have told them. He said she was about to tell them where the money was, until Greenlee's unexpected arrival. Greenlee assured him that she's a fraud, but Leo said that he's gambling everything that Nessa's the real deal. Kendall interjected and asked Leo if Vanessa knows everything about Trey, including how he char-broiled his arm. Greenlee said, "We need a timeout", and pulled Kendall aside.
Vanessa asked Trey if he has done anything with Kendall yet. He said they're roommates, and she appeared upset by the news. When she pressed him further, he said that they haven't done anything "yet", but he's working on it. Vanessa tried to tell Trey not to date Kendall, but he responded that they're perfect for each other, the two town pariahs. He told Vanessa that she's actually starting to sound jealous, but Vanessa responded that it's nothing like that. She told him again that Kendall Hart is pure poison. Kendall heard the end of the conversation and told Vanessa that she can't believe the drug lord psycho is calling her poison. When Leo and Greenlee walked up, Greenlee asked her if she has a thing for Trey, and she responded, "God, no!" Leo interrupted their conversation and tried to focus Vanessa's attention back to the money. Nessa said that she's not sure where it is, but Vanessa did pass something on. She wrote down some information on a piece of paper and handed it to Leo. She asked, "Is this going to help you?" Leo said that it's just numbers, and Nessa told him that she doesn't know what they mean. She said that Vanessa kept repeating them over and over, but never explained what they were. Leo told her that she did everything they could, and the four of them left. As he was leaving, Nessa warned Trey one last time about Kendall. Outside of her room, the guard told them that they're free to go. As they left, he called someone on his phone and told them to cover the entrance, because they're on their way out.
David caught up with Maria outside the mausoleum and told her that they aren't finished yet. She asked him to answer one more question. They walked back into the mausoleum before asking him "Why does everyone hate you?" His response is that they are all jealous. He said he's job is superior to the boredom of the lives of everyone else. She said that he feels his life is much more important, then even hers. She told him that she would never have made the choices he made, but he responded "How do you know?" He asked her how destroying his life would make her happy. She told him that she can't "fix" this. He told her that having Maddie was a miracle, because doctors told her she couldn't have any kids. He said that she isn't immune to miracles. His mood softened as he told her that, if he had to do it again, he would bring her back to her family. Maria asked him to give her one reason why she shouldn't turn him in, and he responded, "My unborn child."
Jackson led Anna into the hallway of his daughter, Lily's, school. Her teacher, Mrs. Neff, told Jackson that Lily's been a little upset because she's worried she won't have a date for the upcoming dance. Jackson showed Anna into Lily's classroom, and Lily told Jackson that she was drawing a picture for him. When he introduced Anna, her cell phone started ringing. Lily responded by screaming and covering her ears. As Anna left to answer her phone, Jackson told Lily that the loud noise was gone. Lily went back to drawing, and she asked Jackson if he misses her mommy. Jackson said he did, and Lily said she did too. From the hallway, Anna listened to their conversation. She heard Jackson ask Lily about the harvest dance. He told her a story about a dance when he was younger, and how the prettiest girl didn't get asked, because all the guys were afraid she was already going. He asked Lily if she would go to her Harvest Dance with him. She said that was a good idea, but they were interrupted by Mrs. Neff telling them it was time for lights out. She led Lily away as Anna reentered the room. He told Anna that Lily has come along way in the past year, and he is so proud of her. She told him that Lily truly adores him, and he said the feeling is mutual. When he made a few more glowing comments about Lily, Anna told him that Lily's mother would be so proud of him. She said that she wishes David could be half the father he is. She asked him if he was ready, because Maria should be done talking to David by now.
Leo and Greenlee were trying to think about what the numbers might mean, as they drove away from Vanessa. When Leo told Greenlee that Trey might be able to figure it out, because he's a smart man, she thought about Kendall's suspicions of him. Leo noticed her thinking, and she told him she was just thinking about how much she loved him. He told her that they're only a few steps away from Paris, and a few steps away from leaving this all behind.
Trey and Kendall were in another car, and Trey was remembering Vanessa's final warning to him about Kendall. She told him that they are just roommates, but then added that it is tempting, however, to make Vanessa go a little crazy. He asked her if she was coming on to him, and she responded that he would know when she's coming on to him.
Edmund interrupted David's talk with Maria, and told him that he would make him suffer. Jackson and Anna arrived and pulled Edmund off, telling him that David's not worth it. Anna told Maria that they have a car waiting, and she can go to the station to file formal charges against David. When Maria didn't follow her, Anna asked her, "You are going to file charges, aren't you? Don't let him get away with this." Maria simply stared at David, without responding or moving.
Wednesday, September 25, 2002
Leo, Greenlee, Kendall and Trey sat in the loft trying to decipher the 12 digit code Nessa had given them. They figured out it wasn't a bank account number but couldn't get any further. Trey suggested that Leo take his wife out to dinner while he and Kendall kept working on the code. Greenlee refused, saying they couldn't let Trey do everything since they were all partners in this. Leo said they needed to get into Vanessa's twisted mindset and then had an idea. He sat down at the computer with Greenlee as Kendall and Trey talked across the room. Kendall said it was a total waste, having to give all that money back. Trey wondered what she was getting at and Kendall said she could help Trey keep the money. He said if they don't give the money back Leo would go to jail. Kendall said they could skim some money off the top and no one would ever know and told him to think of it as their "finder's fee." Trey refused as Leo let out a yelp "I've got it!!!." They all rushed to his side as he explained that Vanessa always used map coordinates to figure out escape plans. The numbers Nessa had written down were actually longitude and latitude numbers and they pointed to a spot in the Pine Valley State Park. Leo grabbed the map and rushed out the door. Trey went to get a shovel and Kendall and Greenlee talked about him. Kendall told Greenlee that she tried to get Trey to skim some money but he turned her down. Greenlee said they have to prove he's trying to scam Leo. They yelled to him to come on and they all headed out the door. Once at the park they began digging holes searching for the hidden millions. As they argued about where it could be Trey wondered if someone helped Vanessa hide the money. Greenlee slapped Kendall, claiming there was a mosquito on her. Kendall slapped her right back, claiming the same. The fight started to escalate but Leo broke it up quickly. Trey told Kendall to go to the car and get the insect repellant. Greenlee wouldn't let her go alone so they both went. Leo kept digging until he hit something metal. He whooped with joy and got on his knees to pull it out of the ground. Trey stood behind him holding a shovel over his head. Leo sang the French national song as he pulled the box out of the ground. He told Trey to help him get the box open and said they were truly brothers now. Trey was touched and sat next to Leo. Kendall and Greenlee returned and were thrilled to see the box. Leo popped the box open and was stunned. It wasn't cash as they had expected. It was full of stock certificates. Greenlee was excited but Leo looked closer at the stocks and announced they were for a company who'd gone bankrupt last week. Trey said Vanessa was brilliant, that this was why the electronic paper trailed had stopped. Greenlee said she wasn't so brilliant since now they weren't worth the paper they were printed on. Leo began laughing while the others looked at him like he was nuts. He explained that Vanessa had tried so hard to keep them away from this and now it was worthless. He said that the millions Vanessa made on drugs was now lost on corporate crooks who were going to jail too! He laughed more as he threw the papers up in the air. They all began laughing and throwing the stocks around. Finally Greenlee stopped and said Nessa and Vanessa were the same person and that she'd played them for fools. Leo said no, that Nessa had actually come through for them. They began to pick up the certificates and Greenlee picked up the map with the 12 numbers on it. When they had picked up all the paper they headed for the car. But Greenlee stopped and claimed she had dropped her cell phone. She said she'd find it and meet them. The others walked away and Greenlee pulled out her cell phone. She looked at the coordinates on the paper then dialed Nessa. Nessa answered and Greenlee snarled "You think you won??" Nessa asked if they found the money. Greenlee said it was all worthless and that Nessa was still a "3 faced warped killer." Greenlee went on to say that she and Leo were still going to Paris and that Nessa would never see Leo again. Greenlee hung up the phone. Nessa walked around her room and said out loud "You'll never take my son away you spoiled little tramp! Not while I'm in charge!."
Brooke went in the Valley Inn bar, looking for Edmund. She asked the bartender if he'd seen him but Edmund hadn't been in that day. Erica overhead this exchange and walked up to Brooke. She asked Brooke if the rumors were true, had she really known Maria was alive but didn't tell anyone. Brooke admitted it was true. Erica told Brooke not to chase after Edmund telling her not to "troll bars" looking for him. Brooke told Erica she had a legitimate reason to find Edmund but Erica didn't believe her. Brooke reminded her of how she had tried to keep Maria's daughter away from her. Erica sniped at Brooke and walked away. Aidan arrived and sat at the bar near Brooke. Brooke introduced herself and told him she wanted to talk about Maria. Aidan said he had nothing to say. Brooke says she wants to make things right for Maria and told Aidan what it was like when Maria and Edmund first fell in love. He wondered why she tried to keep them apart and Brooke admitted that she had been wrong and wants to make it right now. Aidan told Brooke she should stay out of Maureen and Edmund's lives and Brooke told him he should do the same. Aidan said that Maureen wants her own life, not to be forced into a life she can't remember. Brooke told him that Maria needed to get back to the life she and Edmund deserve. Aidan's phone rang and he answered it.
In the mausoleum Anna begged Maria to make a statement against David. David told Maria they didn't have a case against him and she said she won't put David in prison. Edmund told Maria that David doesn't care about her or what he did. Maria said the bottom line was that David had saved her life. Anna reminded Maria of all the bad things David did to her but Maria said he fought to save her life and she wouldn't punish him. Edmund, Jackson and Anna all tried to argue with Maria as David stood by with a very smug look on his face. Jackson told Maria they would still press charges against David and call her as a hostile witness. Then she would have to admit that David gave her untested drugs. Maria said she would tell the jury she didn't remember what David did. Anna tried to talk sense into Maria but she got upset and Edmund took her outside. Jack looked at David and told him it wasn't over. Edmund told Maria that David is long overdue for a prison term. She again refused to help put him away. Edmund got a little aggravated and said he couldn't believe that was Maria talking. Maureen got angry and said she wasn't Maria. Edmund told her how David came to many of the Crystal Balls that were in her honor, knowing that she was alive. He begged her not to let David get away with it. Maureen told Edmund she may never remember her past life and that maybe David was right, maybe keeping her away from Pine Valley did them all a favor. Edmund was a little taken back by that but promised her that it will be worth the pain to get her life back. She told him he was being like David, trying to control her life. Edmund apologized and said he'd do whatever she wanted. She said she wanted to get away and that she needed a friend right now. He offered to take her to the Valley Inn but she refused. She told him to call Aidan. Edmund reluctantly called Aidan and told him Maureen wanted to see him. He told Aidan they were at the mausoleum and hung up. Aidan told Brooke where he was going and she followed him. Maureen and Edmund returned to the mausoleum and she told everyone she was standing by her decision. Aidan arrived and she told him what was happening. He started to usher her outside but stopped to tell David to stay away from her. They left Wildwind and Anna asked Edmund if he was ok. Edmund said he needed time alone so Anna, Jack and David stepped outside. David asked Anna "If Maria can forgive me, why can't you?" Jack led Anna away as David just stood there. Inside the mausoleum Edmund let his frustrations out on the vases of flowers and Maria's plaque on the wall. Brooke walked in and watched for a moment. He saw her and ran out the door without saying anything to her.
Erica arrived at the construction area and found Chris. He was extremely snappy with her and told her they should "forget the whole thing" because she's just playing games with him. He reminded her that she was supposed to come back to the restaurant in 20 minutes and it had now been over 29 hours. She claimed that she had a business emergency that took her out of town but Chris didn't believe her. He believed that she was trying to punish him for going back to work for the FBI. They argued and Chris finally said their conversation was going no where. He said "I found him" to Erica who pretended she didn't know what he was talking about. Chris told her he'd found her father and handed her the man's phone number. Erica flipped out and said she never told him to find Eric Kane, she had wanted to think about it. Chris said he was just trying to help her. Erica ranted about her father was the one who walked out and he should make the first move. Val interrupted them and handed Erica a large vase of red roses. She immediately thought they were from Chris but he denied this. She read the card and said they were from her father. Chris wondered why he'd send Erica flowers. She thought it was because Chris's men had tipped him off that she was looking for him. Chris read the card and said there was no name, how did she know it was her father who sent them. Erica said it was just like him, a big display with no meaning. She yelled at Chris "Stay out of it, it's my problem, not yours!" and ran out.
Thursday, September 26, 2002
Leo stumbles into the living room and wakes Trey by tossing a glass of water in his face. Leo declares it is time to contact the District Attorney and return the Proteus money they found. A depressed Trey says that now he is more broke than ever and the time has come for him to leave town. Leo tries to talk him out of leaving by reminding Trey that now he has a mother and two brothers. Maggie comes to the door to ask Leo if he's seen David. She's worried about David because he was acting so strangely at the hospital. Leo takes off leaving Maggie alone with Trey.
At his cabin, David picks up the phone to check his messages. When he does so, he hears a message from Anna asking him to call her as soon as possible. David is ecstatic thinking this means a reconciliation is possible.
Jack arrives at Anna's office to ask if she's ok. Anna disgustedly tells Jack that David has his own personal code of justice. No matter what he's done, he always seems to get off the hook. Dixie forgave him, Maria forgave him, and Anna feels like another sucker. To Anna's dismay, Jack agrees. He tells Anna she ignored all the warning signs and that she should have been able to see that David was trouble. Anna says it isn't so simple for her to move on. Jackson asks what she would do if David would call asking for one more chance. Before Anna has a chance to think about it, the phone rings. He thinks Anna has forgiven him. Anna tells him the message she left was an old one. She has no desire to speak to him. David asks if they can try one more time to work things out. Anna glances at Jack then tells David no. She asks him not to call her again.
Anna hangs up and tearfully tells Jack that David will never leave her alone unless she can find a way to put him in prison. Jack says that putting David away won't make her feeling disappear. He tells Anna that she is still in love with David and until she can admit that and face her feelings, she will never be able to get away from him.
Meanwhile, Leo arrives at the cabin. David tells his brother that he has lost Anna for good. He has lost everything including his unborn child. Leo tells David there is still time to turn his life around. David can do it with the support of his family.
Maggie and Trey share an awkward moment until Maggie tells him that finding out he was Vanessa's son cleared up a lot of questions she had about him. Trey tells Maggie that when he did research on his family, he found out they were all a bit on the strange side. All he ever wanted was one normal relative. He found that in Maggie. Maggie isn't sure she fits the description of normal, but Trey tells her he likes the way she cares about people. Leo and David return and Leo introduces David to his new brother. David welcomes Trey to the family and they agree not to judge each other by what they've heard from others.
Leo tells David and Maggie about finding Vanessa's hoarded money buried in the woods. It turns out there is no money. Instead of hard cash, they found worthless stock certificates. They agree that even though they won't be rich, at least the search for the money brought them all together. Greenlee comes in to find the four of them having a good time together. Leo pulls her aside and tells Greenlee he can't go to Paris.
Kendall is forced to help Petey skip school then buy him ginger ales and trashy comic books and in return he will call Bianca for her. Bianca arrives to find that Petey didn't really need help. When she sees Kendall, Bianca calls her a "nightmare version of Mary Poppins." Kendall tells Bianca she had Petey call because she knew Bianca would never come to see her otherwise. Kendall has news for Bianca. Even though Kendall is sure Bianca blames her for the fire, she says that now she knows who really set fire to Erica's house.
Kendall asks Bianca if there is any way Trey could have known that Chris kept the Proteus files at Erica's house. Bianca is surprised that Kendall believes Trey set the fire. She is surprised, but still believes Kendall's story. Bianca urges Kendall to go to Jackson. Kendall refuses to go to Jack because he hates her. Bianca replies, "so what, everyone does." Bianca warns Kendall that Trey could be dangerous. She calls Jack to tell him Kendall has something important to say and Jack agrees to meet with Kendall.
When Kendall gets to the police station, she announces to Jack that Trey was the one who torched Erica's house and then set her up to take the fall.
Friday, September 27, 2002
In their condo, Greenlee and Leo argued in front of Maggie, David and Trey about Leo's promise to Trey and David to help them out instead of going to Paris with Greenlee. David and Trey thought they should leave and let Leo and Greenlee settle their disagreement. David told them "to play nice" as he and Trey left the condo.
Leo told Greenlee she was sounding self centered. Of course I am, she retorted, " I'm Greenlee Smythe and the world revolves around me." Leo replied he wasn't choosing David and Trey over going to Paris with her. Greenlee wanted Leo to choose making her happy. Leo, frustrated because the argument was going nowhere, left the condo. But before the door completely closed, he heard Greenlee say, " Go be with your arsonist brother who burned down Erica's house. Leo burst back into the condo not sure he heard what he did hear. He asked Greenlee to repeat what she just said. She did. Leo couldn't believe her and they argued again. Greenlee suddenly realized they were having their first fight as a married couple. She lamented she would rather be in Paris. She can't understand why Leo wants to be in Pine Valley to support Trey and David. She told Leo he used to be adventurous and romantic. Now he has morphed into a social worker/family therapist/nursemaid for his neurotic family. Leo defended his actions. He wanted to be there for them. Greenlee believed Leo was not being fair. He asked her to be patient. "Do we go to Paris now or never?" declares Greenlee. Leo replied, "Not now." "Then it's never," replied Greenlee as she left the condo.
Trey went to his condo with Maggie. He wanted assurance from her that she would stand by him no matter what he has done. Maggie thought he was talking about his lying about his true identity and promised she would always be there for him. Trey was surprised and pleased Leo was supporting him and that he wasn't going to go to Paris with Greenlee because of him.
Kendall went to Pine Valley police station and talked to Jackson. She told him she believed Trey sent fire to Erica's house to cover up his theft of Chris Stamp's Proteus files. Jackson wanted Kendall to tell this information to Chris but Kendall was adamant that Chris would not believe her. Jackson promised he would stand by her. Kendall finally agreed to talk to Chris so Jackson called him to come to the police station. He came in a hurry wanting to know what was the important information Jackson had. Jackson told Kendall to tell Chris what she told him. Kendall began her story about Trey's true identify and the partnership between Trey and Leo to find the money. Jackson and Chris were surprised to hear the money had been found. Kendall also told Chris about her belief that Trey set fire to Erica's house to get the Proteus files and that Trey had stolen her lighter. When she was finished, Chris wasn't convinced and questioned Kendall's motives. She was known as a liar and he believed she was lying again. They three of them went round and round: Chris not believing Kendall and Kendall defending herself. Jackson was in the middle of the heated exchange between the two of them.
There was a knock on the door. Leo and Trey enter with the backpack. Leo dumped the contents on the desk. Jackson and Chris looked in amazement at the stock certificates. They are now worthless as the company that issued them is bankrupt. Leo reminded Jackson of his promise. He brought Jackson the Proteus money for his freedom. Jackson told him he was free to go. Leo let out a whoop as he left the office. Trey was told he had some questions to answer so he was detained.
Greenlee sat sadly at the boathouse. She discovered a candle still there from her wedding to Leo. Her eyes filled with tears. Leo found her there. He told her he loved her and loved being the center of her world. Greenlee replied she wanted Leo to be the center of her world. They embraced.
Meanwhile at the police station, Chris told Trey he couldn't understand why Trey would turn in evidence that implicates your client of a serious crime. Trey looked at Chris and Jackson and said, "I have a confession to make."
Anna visited Liza at Chandler Mansion. She wanted the evidence that Liza had so she could use it against David and put him in prison. Liza at first thought she needed to get her lawyer but changed her mind and asked Anna for immunity for her information. Anna offered to get an immunity statement in writing for Liza but Liza should her word was enough. Anna granted her request. Liza had immunity. Liza left to get the evidence as Anna suddenly felt nauseous. She quickly sat down on a nearby chair, loosening her belt. She flashed back to her conversation with David on how he declared he should be lauded for saving Maria's life. Liza returned with the CD and vial containing an untested drug and gave them to Anna. Anna took them and was on her way out the front door but David had just arrived and was standing on the doorstep. He saw the research material Liza and given Anna and chided Liza for giving it to her. Anna told Liza she needed to talk to David alone. As soon as Liza left the room, Anna and David bickered at each other. David defended his position. He was saving lives. Anna believed he was playing God. David fought for time hoping to convince Anna he was right to do what he did saving Maria's life with an untested drug. Anna retorted, "It's always about you." Anna declared to David she has changed. She doesn't like his lies and breaking the rules anymore. "I fell in love with the wrong man," she confessed. Anna tried to leave. David stood in front of her blocking her path, declaring he couldn't let her leave. Anna turned away from him and then quickly whirled around, pointing her police service revolver at David. "You know you're not going to use that on me, retorted David. "Are you sure? really sure?" Anna asked, her gun still drawn.