Proving that reality television is often stranger than fiction, recently ousted All My Children star Aiden Turner (ex-Aidan Devane) has signed on to appear on ABC's reality competition, Dancing With the Stars. The Emmy-nominated actor exited the show in December in advance of the show's relocation to Los Angeles.
The following month, Turner appeared as a guest on Soap Central Live, Soap Central's live Internet radio program, to discuss why he was let go from All My Children and what the future held for him.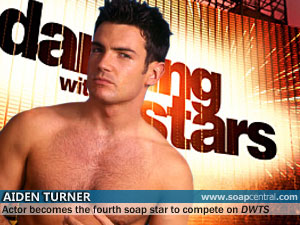 "The show moving to Los Angeles cost a lot of money, and there's so many people that they're writing for. I had just been in a big front-burner storyline, and the other people who weren't, like maybe Chrishell [Stause], who plays Amanda, or Ricky Paull Goldin [Jake]... their story started to become front-burner," Turner explained. "So when [network executives] looked at the figures, they saw that I wasn't going to be working on the show that much. I'd been there over five years, so they would have had to pay me a quite substantial amount of money for relocation -- for moving, and moving your cars, and all your furniture and blah, blah, blah, temporary housing, flight... what have you. I just think economically it didn't make sense to bring a star from one side of America to the other and basically pay for his relocation, and not having him on the show that much, and having him audition during pilot season. [I have] no hard feelings against ABC. I loved working there."
Turner also spoke of auditioning for other projects, but made no mention of having been approached for the dancing competition.
"I've had some great response auditioning in Los Angeles. I'm not under contract with anyone. I have had some great responses from Alan Ball, who's the creator and writer of True Blood," Turner revealed. "I just recently went in for a new series called The Gate, it's like Desperate Housewives meets True Blood. It's another vampire show, with a different spin. I've had a really good response from a lot of the casting directors and there are things in the works, but I can't really talk about [it] because I don't want to jinx it."
Soap Central Live airs live every Friday at 6:00pm Eastern/3:00pm Pacific. For more information, please visit our Soap Central Live section. To listen to Turner's interview, click here.
Turner becomes the third All My Children star to appear on the competition. Susan Lucci (Erica Kane) and Cameron Mathison (Ryan Lavery) both previous appeared on the show. Additionally, Kelly Monaco (Samantha McCall, General Hospital) was the winner of the first season of Dancing With the Stars.
Other stars slated for this season's Dancing With the Stars include former Baywatch babe Pamela Anderson, Cincinnati Bengal wide receiver Chad Ochocinco, ESPN personality Erin Andrews, Beverly Hills 90210 and Charmed witch Shannen Doherty, astronaut Buzz Aldrin, comedienne Niecy Nash, Pussycat Dolls frontwoman Nicole Scherzinger, Olympic gold medal skater Evan Lysacek, former Bachelor contestant Jake Pavelka, and reality mom and tabloid star Kate Gosselin.
Dancing With the Stars debuts with a two-hour season premiere on Monday, March 22 at 8:00pm.