Award-winning actress and best-selling author Victoria Rowell (ex-Drucilla Winters, The Young and the Restless) visited Soap Central Live as part of her whirlwind promotional tour for her newly released novel, Secrets of a Soap Opera Diva. During the hour-long discussion, Rowell made several revelations that, until now, were unknown to soap fans.
When asked if she would ever consider appearing on ABC's All My Children with friend and former Eve's Bayou co-star, Debbi Morgan (Angie Hubbard), Rowell hinted that something might already be in the works.
"I will definitely tell you this... That's something that All My Children and I have had a little dialogue about," Rowell teased. "And certainly Debbi Morgan and I have talked about that."
This isn't the first time that Rowell and Morgan have attempted to appear on-screen together in daytime. Years ago, Rowell came up with the idea to have Morgan appear on The Young and the Restless as a family member.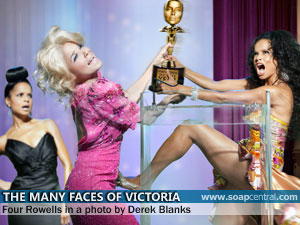 "I tried to get Debbi Morgan on The Young and the Restless as a distant relative and Y&R passed. For what reason, I do not know. It was a silver platter situation -- and we were heartbroken," Rowell revealed. "Debbi even wrote a letter, which I delivered to the producer at the time, and unanimously it was turned down."
Rowell asserts that similar situations occurred with other African-American performers as well.
"If I told you the actresses of color that wanted to come on to The Young and the Restless -- not forever -- but wanted to make a juicy cameo appearance, you would absolutely fall off your chair," Rowell explained. "From songstress Nancy Wilson to Nichelle Nichols to Daphne Reid... Fabulous actresses that wanted to come on to the show, including -- and I don't think this is a rumor -- Aretha Franklin. If we could just take a step back. You tell me you'll bring on David Hasselhoff and Sean Young, but not Aretha Frankin and not Daphne Reid or Nichelle Nichols? We're talking about Star Trek royalty. Are we saying that?! If there is no one of color at the table who is listening to a voice of reason, what you have is madness. And that's what the fans are jumping up and down about. Black, white, or whatever -- it just doesn't make sense anymore."
The complete hour-long interview with Victoria Rowell, in which she discusses the real reason she left The Young and the Restless and her involvement in raising awareness for children in foster care, is archived and available for online streaming, downloading, or podcasting. For more information, visit:

http://www.voiceamerica.com/voiceamerica/vepisode.aspx?aid=46169 (Streaming live, link for download)

soapcentral.com/radio (All listening options, plus info on all Soap Central Live shows)

FOR MORE INFORMATION:

To order a copy of Victoria Rowell's Secrets of A Soap Opera Diva, please click here.
For more information on Rowell's memoir, The Women Who Raised Me, please click here.

Photo Credit: Derek Blanks