Christina Bennett Lind (Biana Montgomery) takes the stage this month in a tense thriller that sounds as if it could be ripped from the pages of a sinister soap opera.
Lind headlines as Susy Hendrix in the John W. Engeman Theater's production of Wait Until Dark. Susy is a recently blind housewife who becomes the target of three con men searching for illicit drugs. Susy's husband, Sam, had been persuaded by a strange woman to transport a child's doll across the border, not knowing what was being smuggled inside.
If the title of the play sounds familiar, there's good reason. Audrey Hepburn received an Academy Award nomination for her portrayal of Susy in the 1967 film version.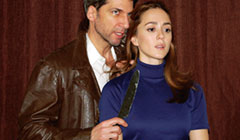 "I actually have not seen any stage productions or, thankfully, the film (as I've been told there's a certain beautiful film and fashion icon who's impossible to live up to... what IS her name...) so I have fresh eyes for the role and the script," Lind said of her work in the project. "Just recently, my parents mentioned having seen it for the first time on television and another good friend counts it as one of her favorite films of all time. It's a rare gift to be doing a role that an audience has a reference to because it allows for a more accessible, participatory experience. It's wonderful to have friends get excited about seeing a story that they know played out on stage because they'll bring their own associations and memories with them, which will be a fuller experience for me, too, as they react to each twist and turn."
There are twists and turns throughout the play, as the masterfully constructed drama moves from one moment of suspense to another as it builds toward an electrifying, breath-stopping final scene. The play's web site and program encourage patrons to not reveal the ending of the play.
Previews begin on Thursday, January 24, at 8:00pm, with the official opening on Saturday, January 26, at 8:00pm. The show runs through March 10, 2013.
The John W. Engman theater is located at 250 Main Street in Northport, New York. Tickets can be purchased at the box office or online at engemantheater.com
Christina Bennett Lind, who appeared as AMC's Bianca from June 2010 through the show's 2011 finale, will discuss her role in Wait Until Dark on the January 25 edition of Soap Central Live. Click here for more information on how to listen to the show.
Photo Credit: John W. Engeman Theater