All My Children's search for a new actress to breathe life into the role of Bianca Montgomery has ended. The role, vacated when Emmy-winning actress Eden Riegel announced earlier this year that she'd be joining the cast of The Young and the Restless, has been filled with newcomer Christina Bennett Lind .
"Christina oozes goodness and we really needed that for Bianca," AMC's executive producer Julie Hanan Carruthers told TVGuide Magazine's Michael Logan. "Eden brought an integrity and honest innocence to the role that was very tough to match. We turned the earth [upside-down] going through the candidates. When Christina came in to read for the part, she was Bianca. I think it'll be a very easy transition for the audience."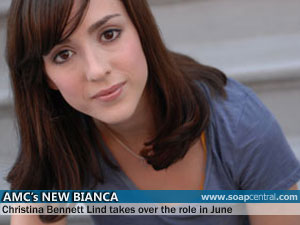 Lind will become the seventh actress to play Erica Kane's youngest daughter, but no previous actress is more associated with the role than Riegel. Reigel debuted as Bianca in July 2000 and remained with the show as a contract performer through February 2005. From 2005 through last year, Riegel made occasional, short-term appearances when story warranted Bianca's appearance. In 2005, Riegel won a Daytime Emmy as Outstanding Younger Actress.
Stories differ on exactly why Riegel and ABC were unable to come to terms on a contract once the show relocated to Los Angeles. . Last fall, Riegel tweeted a brief message, saying only that it "isn't going to work out" and expressing her sadness over the situation.
"AMC gets a new Bianca and she's super pretty!" Riegel tweeted, adding with a wink, "And, of course, by that I mean she looks like me."
"I wish her the very best of luck, of course, and will be cheering her on along with the rest of the AMC fans," Riegel later told TVGuide Canada's Nelson Branco. "And I might add a hearty congratulations for scoring one helluva role! She's a lucky girl for getting to play opposite Susan [Lucci] and Alicia [Minshew]."
All My Children has reportedly been working on recast plans since March -- possibly even before that, according to one Soap Central source.
Lind joins All My Children with limited television experience. She appeared in an "under-five" role on As the World Turns and in small roles in several films. She has extensive experience in regional theater productions. TVGuide reports that this was the fourth role Lind had auditioned for on All My Children.
Bianca's love interest, Reese Williams, last played by Emmy winner Tamara Braun, will not be returning at this time. The door, however, is open for Braun to return to the show and the show is reportedly not planning to recast Reese at this time.
Lind makes her AMC debut on June 15.
RELATED STORY: Shocker! Eden Riegel jumps ship to The Young and the Restless
Photo: Dan J Kroll/Soap Central