As production of All My Children's Internet relaunch begins today, the show's list of confirmed cast members continues to grow. Newcomer Robert Scott Wilson has been cast as Peter Cortlandt.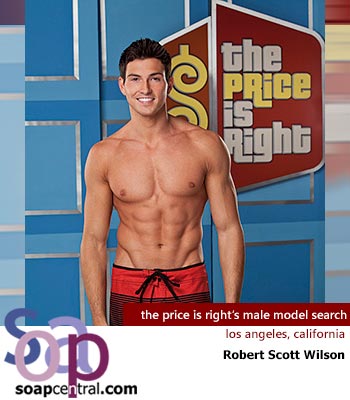 This isn't Wilson's first foray into daytime television. In October 2012, Wilson became the first-ever male model on CBS's long-running game show, The Price Is Right. Wilson also has several primetime guest stints under his belt.
A Boston native, Wilson has appeared in the feature films Bride Wars, Surrogates, Friends With Benefits, and The Social Network. He has co-starred in television series including The Secret Life of the American Teenager and The Middle.
Peter Cortlandt, the son of the late Palmer Cortlandt and his wife, Opal, was born on-screen in December 1992. Mitchel David Federan was the first non-infant to tackle the role, playing Peter for several years in the mid-2000s. After two years off-screen, Peter returned to Pine Valley as a teenager in 2008. Daniel Kennedy held the role for just over a year, before being written off the show in October 2009.
As previously reported, when All My Children returns to the airwaves, the show will have jumped five years into the future. That was necessary, according to numerous actors attached to the project, because many of the performers who were part of All My Children's ABC finale in 2011 are no longer available to continue with the show.
Wilson shared some details of what has happened since fans last saw the character.
"He's a young, driven entrepreneur. He moved to California, dropped out of school, and started a business." Wilson explained. "A lot has changed and he's definitely become a ladies' man."
For an opinion of why this time jump is a good thing, read this week's Two Scoops.
It is expected that the majority of AMC's younger set -- Miranda, A.J. Chandler, both of whom have already been cast, Kate Martin, Spike Lavery, and Emma Lavery -- will be aged for the reboot.
RELATED STORIES: