After more than a decade away from Pine Valley, Michael Nader (Dimitri Marick) is returning to All My Children.
"I got a call from executive producer Ginger Smith who said Prospect Park is relaunching All My Children online. She said 'we'd love for you to come back.' And I said, 'you want me, you got me.' Being back, is like being home," Nader said of his return.
Nader originated the role in 1991 as the man who finally rescued Natalie Dillon from her imprisonment in a well. Dimitri's later epic romance with Erica Kane remains one of All My Children's greatest love stories.
In 1999, Nader was released from his contract, and Dimitri was presumed dead following an apparent suicide. Less than a year later, though, Nader was back in what was called a "mutual decision" between the actor and ABC.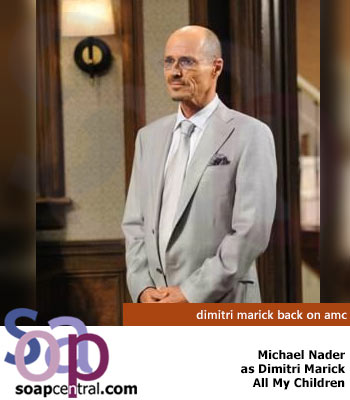 In 2001, Nader was arrested by New York City Police for allegedly selling a $20 bag of cocaine to an undercover cop at the unlicensed "Barber Shop" nightclub in Manhattan's Lower East Side. Nader entered a rehabilitation facility, and ABC temporarily recast the the role of Dimitri with Guiding Light veteran Anthony Addabbo as Dimitri. Fans never quite took to the role being recast, and Dimitri was written off the canvas in July 2001.
The door for a return was left "slightly ajar," according to Nader, if he successfully completed drug and alcohol rehabilitation. A felony charge of possessing a controlled substance was subsequently reduced to a misdemeanor charge of possession. Nader never returned to his role on ABC.
"I don't know if the public knows, but for 17 years, I was drug and alcohol free from a 12-step program," Nader said at the time. "So for this event to resurface later in my life was devastating, obviously, to me."
In April 2002, Nader filed a multi-million dollar lawsuit against ABC, seeking $1.74 million in unpaid wages, $25 million in compensatory damages, and $5 million for emotional distress. A judge ultimately sided with ABC in the suit.
Michael Nader began his acting career by appearing in the 1960s classic party movies Beach Blanket Bingo, Pajama Party, Ski Party, How To Stuff a Wild Bikini, and Sergeant Dead Head.
On television, his credits include Gidget, Magnum P.I., Law & Order: Special Victims Unit, and Cold Case. He may be best known to primetime viewers as Dex Dexter on the long-running primetime soap Dynasty.
Elsewhere in daytime, Nader portrayed Kevin Thompson on As the World Turns from 1976 to 1978.
In current All My Children story, Dimitri is summoned back to Pine Valley by Brooke English, who hires Dimitri to head up one of Chandler Enterprises new divisions, Chandler Media. The May 13 edition of the Two Scoops commentary offers other possible implications of Dimitri's return.
Nader's first appearance is June 3.