All My Children star Michael Nader (Dimitri Marick) was among two dozen people arrested early Saturday morning in what police are calling a raid of an "illegal social club."
The 56-year old actor and four others were charged with the felony crime of "criminal sale of a controlled substance," said police spokesperson George Jensen.
According to the police, Nader was observed selling a $20 bag of cocaine to a club patron.
The other 19 people arrested were charged with criminal possession of a controlled substance, a misdeamor charge.
The raid took place at an unlicensed Lower East Side nightclub during what is being called an "ongoing narcotics operation." The club is located at 310 East 2nd Street in Manhattan.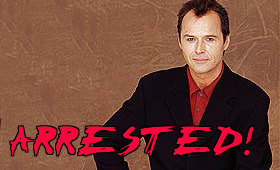 After his felony arrest, Nader was taken to New York's Bellvue Hospital for treatment of an undisclosed illness. He is listed in stable condition. It is unclear whether Nader suffered some sort of injury during the arrest or if this was an ongoing ailment. Internet fans had been speculating about the actor's health on message boards for several months.
This is not Nader's first brush with the law. In 1997, the actor was charged with drunken driving, resisting arrest and child endangerment after he was pulled over by police for speeding on New York's Long Island Expressway with his 13-year-old daughter in the car.
Nader has played Dimitri Marick since September 1991, though the actor was released from his contract for a brief period beginning in 1999. Prior to his role on All My Children, primetime soap fans knew him as Farnsworth "Dex" Dexter on ABC's Dynasty. Nader has also appeared as Kevin Thompson on CBS's As The World Turns.
At "post time," a spokesperson for ABC was unavailable for comment.