According to published reports, the final half of an All My Children super-couple will be leaving the show when his contract expires.
Cameron Mathison (Ryan Lavery) is said to be mulling a leave for AMC by year's end. Of course, his on-screen love interest, Esta TerBlanche (Gillian Andrassy) was killed earlier this year. TerBlanche is scheduled to make her final on-air appearance later this month.
Mathison joined the cast of All My Children on January 12, 1998, as a shady character trying to make a quick buck off of a faked whiplash injury. As it turned out, he was in the right place at the right time. Ryan was coaxed into donating blood, blood that would eventually save his future cousin-in-law's life.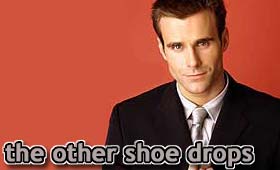 Shortly thereafter, Ryan became fixated on the beautiful Hungarian princess Gillian Andrassy. The pair's relationship was turbulent, but in the end it was clear that they were very much in love.
The latest Internet chatter has Mathison's character being killed off in order for him to be reunited with his late wife. Still other reports claim that Ryan will merely leave town, leaving open the possibility for recasting the role or Mathison's return at a later date.
It should, however, be noted that at the AMC Fan Luncheon held earlier this month in Manhattan, Mathison told fans that he did not want to leave AMC. However, Mathison also dropped hints that there were still a few wrinkles that had not been ironed out during the contract talks. Among these wrinkles, says an insider, is Mathison's desire to work on projects other than AMC.
Mathison's contract is set to expire in late December. The actor has not officially commented on the reports. Additionally, a show spokesperson reminded Soap Central that they do not comment on rumors or contract negotiations.