Cameron Mathison (Ryan Lavery) has broken his silence regarding a recent magazine headline that announced that he had decided to quit his role on All My Children.
On his official web site, Mathison addressed the reports, saying that they are "totally and completely not true." The actor confirms that he is in contract talks, but declined to state exactly where the talks are at. "I could re-sign, I could not, or I could just take a little break for a while... I really have no idea."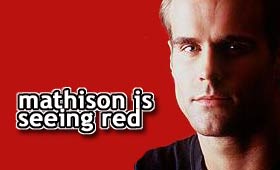 It appears that the rumors of his departure started when Mathison's name was dropped from the list of soap stars that would be attending ABC's annual Super Soap Weekend in Florida. His name has since been re-added.
At the AMC Fan Luncheon held in Manhattan, Mathison told fans that he did not want to leave AMC. However, Mathison also dropped hints that there were still a few wrinkles that had not been ironed out during the contract talks. Among these wrinkles, says an insider, is Mathison's desire to work on projects other than AMC.
Mathison joined the cast of All My Children on January 12, 1998, as a shady character trying to make a quick buck off of faked whiplash injury. As it turned out, he was in the right place at the right time. Ryan was coaxed into donating blood, blood that would eventually save his future cousin-in-law's life.
Shortly thereafter, Ryan became fixated on the beautiful Hungarian princess Gillian Andrassy. The pair's relationship was turbulent, but in the end it was clear that they were very much in love. Gillian's death this past summer brought an end to one of AMC's most beloved couples. It also left Ryan without a love interest -- and many fans stated that they were not ready to see Ryan find a new love.
Meanwhile, Internet message boards are having a field day with the ongoing story. The latest chatter has Mathison's character being killed off in order for him to be reunited with his late wife. Still other reports claim that Ryan will merely leave town, leaving open the possibility for recasting the role or Mathison's return at a later date.
Mathison's contract is set to expire in late December. A show spokesperson reminded Soap Central that they do not comment on rumors or contract negotiations.