Cameron Mathison (Ryan Lavery) has extended his stay on All My Children. The terms of the deal, however, have not been revealed.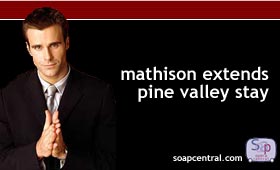 Mathison's contract status has been in question for several months. The news that Mathison might be leaving the show has been in the foreground since late September when a soap opera magazine's front cover proclaimed that "AMC's Ryan Quits."
Since that time, Mathison has denied the reports that his exit was imminent. However, the actor was careful not to rule out a possible leave.
"I could re-sign, I could not, or I could just take a little break for a while... I really have no idea," Mathison said in a September post on his official web site.
With the length of the new contract undisclosed, speculation about Mathison's long-term future with AMC continues. Initially one of the key sticking points in the contract talks had been the term of the contract ABC was offering Mathison. The networks traditionally offer 4-year contracts. According to a source close to Mathison, the actor wanted a much lesser term. That has led to a belief among industry insiders that Mathison's new deal might only be for a few months. By extending his contract several months, Mathison allows the writers to wrap up his character's storyline. It also provides the show with the option to recast the role if it is deemed necessary.
Mathison made his on-screen debut on All My Children on January 12, 1998.