Rumors are circulating that despite the fact that she recently signed a new four-year contract with All My Children, Marj Dusay (Vanessa Cortlandt) is not sure if she'll be around to see the end of the contract.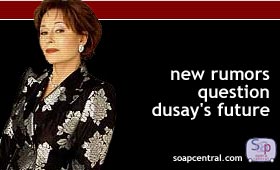 According to an insider, show executives could opt to ditch the actress in as little time as thirteen weeks after the contract was signed. That would put the "danger zone" for Dusay in mid-March.
Rumors had started to circulate in November that Dusay might be let go. The rumors seemed to feed off of the fact that Dusay's character would eventually be revealed to be a major druglord. Some questioned the viability of Vanessa after all of her evil deeds were uncovered. Indeed, online fans are asking the same question: How can Vanessa be redeemed?
In December, Dusay and ABC execs came to terms on a new contract, thereby squashing rumors that Dusay's exit was imminent. However, there was immediate speculation that Dusay had only signed a short-term contract extension.
The question of Vanessa's future rests squarely in the hands of All My Children's head writer, Richard Culliton. When contacted, an ABC spokesperson told Soap Central, "We do not comment on Internet rumors or speculation."