All My Children's recently reinstated head writer, Megan McTavish, appears to be getting readjusted to running the lives of the fictional residents of Pine Valley. Less than one month after her original material began hitting the airwaves comes word that three of the show's contract players have been let go.
Exiting All My Children are newcomers Micah Alberti (Jamie Martin) Amanda Seyfried (Joni Stafford) and Ivan Shaw (Henry Chin). Final airdates have not yet been determined.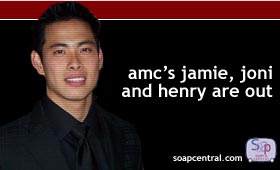 Casting cuts are somewhat expected when a new head writer joins - or in McTavish's case, re-joins - a show. Characters present on the canvas prior to the writer's reign might not fit into his or her vision of where the show is going or needs to go. Those characters that seem to be going nowhere or don't fit the writer's vision are often written out. In their place come new characters that are created by the new writer, characters that are hopefully embraced by the audience and help push forward the show's storylines. Contrary to rumors that often make the rounds on the 'net, head writers do not receive bonuses for creating new characters.
Alberti, a pre-nominee for this year's Daytime Emmy awards, is the sixth performer to play Jamie Martin, the son of Brooke English and Tad Martin. He joined the cast in 2002 when the show's writing team decided to "age" the character to boost Jamie's storyline possibilities.
Seyfried joined the cast of All My Children in November 2002 as a recurring player. AMC execs were reportedly thrilled with her work and offered her a contract. Seyfried, along with Alberti and fellow newcomers Michael B. Jordan (Reggie Porter), Alex Daddario (Laurie Lewis) and Andrew Ridings (JR. Chandler) were expected to bolster the show's teen cast for the traditional teen summer storylines. Ridings was released in February 2003 after he failed to win over fans and Daddario exited last month due to lack of storyline. Jordan, who was successfully linked to core characters on the show, is the only actor of the teen set to remain on contract on the show.
Ivan Shaw made history as the first Asian American male actor to be signed to a contract role on the drama series. Shaw was brought in as Henry Chin, a romantic interest for Maggie Stone, but the romance fizzled with many fans who wanted Maggie to pursue a romance with Bianca Montgomery. The extent of Shaw's storyline thus far has been a battle with his mother over his career path and the fallout from his cheating on a chemistry exam.
A spokesperson for All My Children, while confirming that all three performers are on their way out, declined to offer final airdates for Alberti, Seyfried or Shaw. It is already being speculated that the role of Jamie Martin will be recast at some point in the near future. Additionally, AMC is also rumored to be recasting the role of Adam Chandler, Jr.