In a statement on her official web site, actress Eva LaRue Callahan (Maria Santos) has confirmed that she and her All My Children co-star husband John Callahan (Edmund Grey) have decided to separate.
"We have a rather big bombshell to drop and we don't quite know how to say it," LaRue said in a statement. "John and I, after many months of separation, are confirming our split."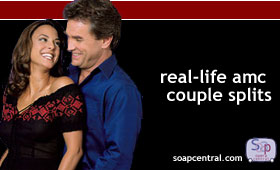 LaRue and Callahan first met during Callahan's stint on Santa Barbara, where LaRue's first husband also worked, and later through their work together on All My Children. LaRue joined the cast of All My Children in 1993 and shortly thereafter she and Callahan were paired up on-screen as lovers. The relationship soon blossomed off-screen as well, and the pair was married November 30, 1996.
In December 2001, the Callahans welcomed a daughter, Kaya Mckenna.
"All is amicable and we are both dedicated to raising Kaya in a happy, loving environment," LaRue added.
The announcement was obviously very difficult for LaRue and the actress explained that she wanted fans to hear her news in her own words before the media picked up on the story. LaRue also asserts that the separation will not influence or be a detriment to the Callahans' soap opera alter egos, Edmund and Maria.
"We want to assure all the [Edmund and Maria] fans that we are dedicated to protecting these characters we love so dearly." LaRue offered. "We have always looked out for each other, and nothing will ever change that. So far we're excited about the way the new story is going."
Would you like to share a message of compassion with the Callahans? We want to hear from you -- and there are many ways you can share your thoughts.