Though it has been rumored for well over a year, Soap Central has learned that John Callahan (Edmund Grey) will now officially be ending his 13-year run with All My Children.
According to inside sources, Callahan's exit is a result of the financial constraints that the show has been undergoing. As with all of daytime television, shrinking ratings have also meant shrinking budgets.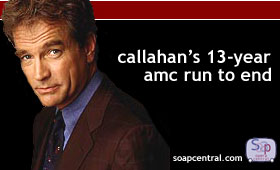 Rumors of Callahan's imminent departure first circulated in January 2004, when Edmund was shot and left paralyzed. Soon after, Callahan's character underwent risky surgery to possibly cure his paralysis. Insiders tell Soap Opera Central that one script draft had Edmund dying on the operating table.
Later, an interview with Eva LaRue (Maria Santos; Callahan's on-screen wife and estranged real-life wife), hinted that both performers might take exits from the show. LaRue discussed a desire to move to the West Coast to be closer to her family. Meanwhile, LaRue pledged that she would be true to the show and its storylines despite the challenges she and Callahan were having in their personal lives.
Callahan joined the cast of All My Children in April 1992. Prior to landing the AMC role, Callahan appeared on Santa Barbara, Days of our Lives and General Hospital.
A final airdate has not been released and an ABC spokesperson declined to offer comment for this story.