Emmy-nominated actress Leven Rambin (Lily Montgomery and Ava Benton) has confirmed that she will be exiting the show in the next few weeks. The announcement verifies a statement made last year in which Rambin said that she had no intention of signing another contract with the show.
"Four long but amazing years of my life have been spent with All My Children, and I will always look back on my experience there fondly," Leven said in a statement on her official web site. "I was so fortunate to be in such an environment for the past 4 years. But, alas, much like my peers who are graduating high school around this time, it's time to move on. [...] I feel it is time for me as an actress to expand and have new opportunities, and I thank All My Children for respecting my decision [to leave the show]."
In June 2004, Rambin joined the cast of All My Children in the role of autistic teenager Lily Montgomery. The actress, a newcomer to daytime television, made a splash that year by attending the Daytime Emmys before her character's first on-screen appearance. The actress quietly introduced herself to reporters while on-screen dad Walt Willey (Jackson Montgomery) teased the media to "keep [their] hands off of his daughter."
"I want to thank you all from the bottom of my heart for your unwavering support of me and my characters over the past 4 years. As you know, I started All My Children when I was extremely young, so I essentially grew up there; memories of my teenage years will consist mostly of days (and nights) spent at All My Children. It has been such an amazing forum for me to grow as a person and an actress."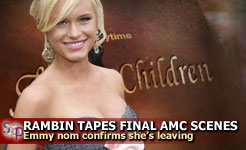 Talk of Rambin's exit first surfaced last year when the actress apparently hinted that she had no intention of staying with All My Children past the term of her four-year contract. Talk quieted as weeks passed and Rambin was still a part of the show. Additionally, the actress was given the look-alike role of Ava Benton in 2007, a new character that was designed to maximize Rambin's exposure and to give her story material that she might not have otherwise had if she had continued to play just the role of Lily.
However, exit talk heated up in February of this year when Rambin's on-screen love interest, Jeff Branson (Jonathan Lavery) departed the show. At the time, an All My Children spokesperson insisted that Rambin was "not leaving."
Rambin taped her final scenes on May 19, scenes that are scheduled to air June 10. The role of Lily will not be recast.