Eden Riegel (Bianca Montgomery) wraps up her short-term All My Children return next week when Bianca leaves Pine Valley after learning that Reese kissed Zach the night before their wedding.
Riegel is no stranger to short-term All My Children engagements. Since leaving her full-time gig with All My Children in May 2005, Riegel has made no less than five mini-appearances. Her current stint with the show was always designed to be short-term, but All My Children executives were tight-lipped about exactly how long Riegel would be sticking around in Pine Valley.
According to insider chatter, the reason for the hush-hush status on Riegel's status was because network executives were trying to persuade the Emmy-winning Riegel into staying with the show a bit longer.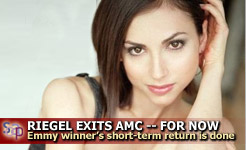 After learning from Ryan that Reese and Zach had shared a passionate kiss, Bianca confronts Reese and tells her that she wants an annulment -- and she's leaving town with her children. Tamara Braun (Reese Williams) will be sticking around after Riegel leaves towm, but this is not the end of the "Rianca" tale. Riegel will be returning to All My Children in the months ahead.
Though no one is speaking on the record, soapcentral.com has learned that Riegel will return this spring to bring a resolution to faltered the Bianca-Reese relationship. In an interview with Soap Opera Digest, Riegel remarks, "It's going to end well for Reese and Bianca. Their love is real. I have hope."
Riegel last airs on February 24.
Photo Credit: Dan J Kroll/Soap Central



Former GH Emmy nom cast as Bianca's girlfriend.