As if being dogged by rumors of a war with a co-star wasn't enough, JR Martinez (Brot Monroe) has also been faced with numerous questions about his future with All My Children.
"U've asked about [my] AMC status," Martinez posted on Twitter in Internet shorthand. "No idea. Basically AMC has no idea how 2 write me in. It's frustrating, but I'll try 2 keep a good attitude."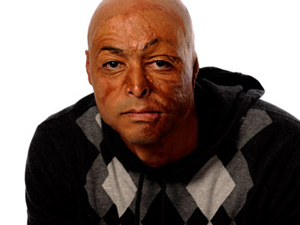 With the ability to more properly convey what's happening behind-the-scenes, Martinez used a recent interview on Stardish Radio to speak at length about his alter ego's future in Pine Valley. In short, Martinez doesn't know what's ahead for his on-screen persona, but he says that All My Children's writers are trying to find a way to work Brot into stories that will make sense to the viewers.
"They have some ideas with me. They want to give me another love interest [and] give the audience an opportunity to watch Brot fall in love from the very beginning," Martinez explained. "They're talking about they want to give [Brot] a job in Pine Valley -- something different -- but they dont know exactly what it is as of yet."
"I only signed a one-year contract and that's coming up in October. And I don't know if I'm going to be on past that or not," Martinez admitted. "If I'm on past that, it's great. If I'm not, then I had a great run. I was only expected to be on for three months and here I am stretching it out to a year. It's amazing to say that I'm in the opening credits. There's so many things that I can look back at and say I'm so proud of."
Martinez, a veteran of the Iraq War, joined All My Children in November 2008. Martinez was critically injured in 2003 while serving as the driver of a Humvee. The vehicle's tire hit a landmine. As a result of ensuing explosion, Martinez suffered severe burns to more than 40 percent of his body. After spending 34 months in the hospital and undergoing 32 different surgeries, he is now a national spokesperson for the Coalition to Salute America's Heroes, to promote and support programs helping other wounded service members.