In a surprising turn of events,
Jill Larson
(
Opal
), who
several months ago
lamented the fact that she might not be seen on All My Children once the show relocated to Los Angeles, has been signed to a long-term contract.
"It's just so meaningful to me," Larson told
Soap Opera Digest
. "Because Ray [MacDonnell, who is retiring from the role of Joe] is not going, for example, and obviously with Eileen [Herlie, ex-Myrtle, who passed away last year] gone, a lot of the history of the show as we know it is no longer represented on the screen. I am absolutely thrilled that I will be joining All My Children in California."
The timing makes to offer all the more sweet; Larson recently celebrated her 20th anniversary on All My Children. 20 years ago, ABC contacted Jill Larson and offered her the opportunity to play the role of Opal Gardner. The actress had just come off a stint as bomb-happy Ursula Blackwell on One Life to Live, and Larson wasn't sure that she wanted to head back to daytime. With a laugh, Larson recalls that a friend urged her to look at the AMC job "as a two-year prison term."
Larson's future with AMC had been in doubt because the actress had been taken off contract three years ago. ABC had only been offering to relocate its contract performers from New York to Los Angeles. Then a recurring player, Larson had not been given any indication that she'd be asked to move to Los Angeles -- or even seen again on the show.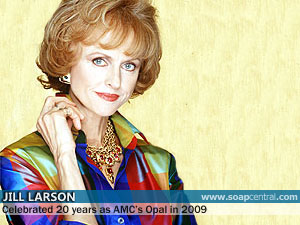 "I would love to [move with the show] to Los Angeles. I would love a chance to spend an extended period in L.A. with a job. So who knows? There are so many details to straighten out if this would even happen, and I truly haven't had a definitive conversation yet," Larson stated at the time. "But knowing about how they are looking at recurring characters, I don't know if it will be possible. We shall see."
As they say, anything is possible and now Larson will be trekking westward with the rest of the All My Children cast.
In addition to her work on AMC, Larson has been working with two-time Emmy winner
Julia Barr
(
Brooke English
) on a new web series called,
Vindicated
. The series revolves around three women at different points in their lives, each dealing with the fact that they do not have a man in their life.
In related news, Opal's former husband,
James Mitchell
(
Palmer Cortlandt
), will be making a special return appearance on All My Children in January for the soap's 40th anniversary celebration.
Opal's son, Petey, however, will not be showing up in Pine Valley any time soon. Fan-favorite actor Daniel Kennedy (Peter Cortlandt) has been let go -- and the actor isn't pleased with the way in which he learned of his exit from the show: Kennedy found out through a script that his character had left Pine Valley.
"I would like to see Pete get more closure," Kennedy told Soap Opera Digest. "The storyline was so sweet, which is why it's so jarring to hear that Pete moved on [to Paris] and fell in love with someone else."
Kennedy last aired on October 30. It is unclear if the role will be recast at a later time.
Photo Credit
: ABC