There's a rumors going around the 'net that the role of Andy Dixon has been or will be recast.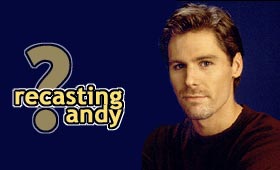 Scott DeFreitas has played Andy on a recurring basis for over 15 years (since 1985). Andy left Oakdale last last year to enter a drug rehab center and few have seen him since.
To believe the reports means that Andy will not only be recast -- but he'll get an entirely different look! The new Andy is rumored to be Chad Brandon, a 6'1", blue-eyed blonde from the L.A. Models agency. This same agency represents Josh Duhamel (Leo du Pres, All My Children). LA Models did not return from Soap Central by press time.
A spokesperson for As The World Turns insists that DeFreitas remains with the show -- on a recurring basis -- and that the role has not been recast.