Colleen Dion (ex-Leslie Coulson, All My Children) will be joining the cast of As The World Turns.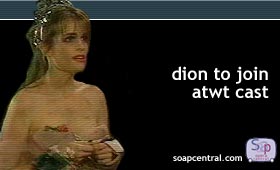 Dion will play a character by the name of Dahlia, someone who plays a part in Katie and Simon's lives. Her first airdate is December 20.
Dion is a soap veteran. Her AMC gig lasted much longer than her recent several-day-long stint on the show. Dion played the role of the wacky former lawyer Leslie Coulson from April 1999 to April 2001. She reprised the role in November for several episodes. Before AMC, Dion appeared on Another World as Brett Gardner from 1993 to 1994. Prior to that, she appeared as The Bold and the Beautiful's Felicia Forrester from 1990 to 1992 and then again in 1997.
After her departure from AMC earlier this year, Dion's name was bandied about for a possible role on Guiding Light.
Colleen Dion will first air as Dahlia on As The World Turns on December 20. She most recently played AMC's Leslie.
---
---