How do you feel about Rucker's upcoming exit from ATWT?

I'm very upset. Rucker and his character are great!
42%
I'm pleased. I never cared much for Marshall Travers.
35%
I'm disappointed, but I don't see a future for Marshall.
15%
I don't really think I'm affected one way or the other.
8%
Other
1%
Poll Posted: September 15, 2003
Lamman Rucker
(
T. Marshall Travers
) has taped his final episodes at As The World Turns. As previously reported by Soap Central, Rucker has been let go from the show and will exit Oakdale in "dramatic" fashion this fall.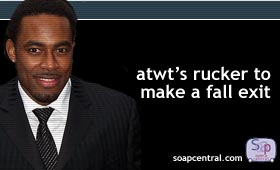 Rucker joined As The World Turns in May 2002 in what was to have been a short-term, recurring role. Rucker's performance earned praise from fans and show execs alike and several months later he was given a contract with the show.
The character of T. Marshall Travers has seen his fair share of controversy. Marshall was involved in a "he said, she said" storyline that focused on sexual assault. The storyline became one of ATWT's most talked about storylines in recent years, but it also drew fire from some viewers who felt the storyline trivialized rape. Marshall's most recent storyline has been less divisive; he just learned that the daughter he believed to be dead is really alive.
Rucker is the second prominent African American male to be pared from the ATWT cast. Last month, it was announced that Emmy nominated
Paul Taylor
(
Isaac Jenkins
) would be leaving the show. Rumors also have
Napiera Danielle
(
Bonnie McKechnie
) exiting the show as well.
A spokesperson for As The World Turns tells Soap Opera Central that Rucker's exit is "storyline dictated." Rucker taped his final scenes on September 13th. His on-air farewell is expected in early to mid-October.