Three-time Emmy Award winner Sarah Brown will join the cast of As the World Turns this summer in a newly created role.
The announcement comes with a bit of irony, as it was made just a week after As the World Turns Emmy winner Lesli Kay (Molly McKinnon) announced that she would be jumping ship to General Hospital.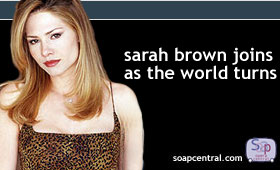 Brown is best known for her work as Carly Benson Corinthos on the ABC soap General Hospital. She joined the show in April 1996 before exiting the role five years later. Her work as Carly won her three Daytime Emmy Awards: two Outstanding Younger Actress trophies n 1997 and 1998 and one Outstanding Supporting Actress in 2000.
"I want other things right now and I hope to move into directing in the next 10 years, full time," Brown said in announcing her GH exit. "I'll be working again soon, hopefully for the same network, just in another time slot."
Indeed Brown did find work in other timeslots following her departure from daytime. Brown made several guest appearances in various primetime dramas, including Crossing Jordan, Without a Trace, and Mysterious Ways.
Earlier this year, Brown auditioned for the role of Dinah Marler on As the World Turns' sister soap, Guiding Light. That role eventually went to former One Life to Live star Gina Tognoni.
At As the World Turns, Brown will be reunited with former General Hospital co-star Real Andrews (Walker Daniels; ex-Marcus Taggert, GH) as well as a legion of former ABC soap stars.
Brown first airs on August 6. According to a setside source, Brown's run is tenatively scheduled to last only a few months.