Caroline "Carly" Lee Corinthos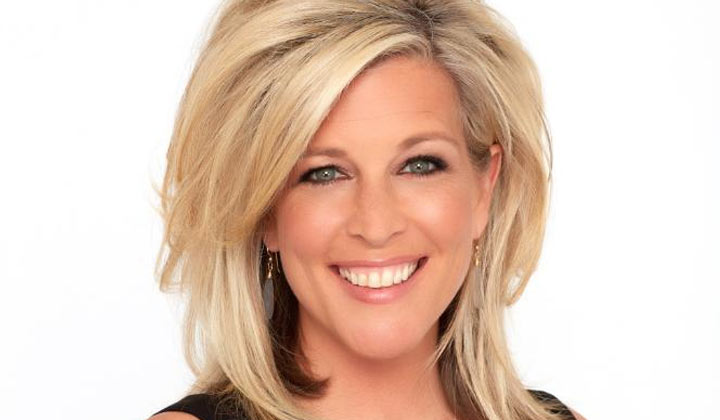 Born on November 5, 1973
Was said to be 22 years old in July 1996
Birthday celebrated on-screen on November 5, 2008
Birthday celebrated on-screen on November 4, 2011
Owns 30% of ELQ. stock
The Cellar, located below Kelly's
Part owner of Metro Court
Former Co-owner of Club 101 with Jasper Jacks
Former Co-owner of Deception Cosmetics
Former physical therapist at General Hospital
657 Harbor View Road, Port Charles, New York
Formerly 607 Braidwood Trace, Port Charles, New York
Formerly at Rose Lawn Sanitarium
Formerly on Harbor View Road, Port Charles (Alcazar's mansion)
Formerly an apartment in Port Charles
Formerly the cottage house
Formerly 243 Skycliff Road, Port Charles, New York (The Skycliff House)
Formerly 122 Harbor View Drive, Port Charles, New York (Harbor View Towers: Penthouse 4)
Formerly 66 Harbor View Road, Port Charles, New York (Quartermaine Mansion)
Single/Engaged to Sonny Corinthos (Engaged: Jul 15, 2015)
Alan "A.J." Quartermaine Jr. (divorced)
Sonny Corinthos (Married: Sep 2000; renewed vows: Feb 2001; divorced)
Sonny Corinthos (Married: 2002; divorced)
Sonny Corinthos (Married: Jan 16, 2007; divorced)
Lorenzo Alcazar (Married: June 10, 2005; divorced)
Jasper Jacks [Married: Apr 27, 2007; divorced: Apr 5, 2013]
John Durant (biological father)
Bobbie Spencer (biological mother)
Frank Benson (adoptive father; deceased)
Virginia Benson (adoptive mother)
Barbara Jean Jones (half-sister; via adoption; deceased)
Lucas Jones (half-brother; via adoption)
Tim Spencer (biological maternal grandfather)
Lena Spencer (biological maternal grandmother; deceased)
Lucas Lorenzo "Luke" Spencer, Sr. (uncle)
Lucas Lorenzo "Lucky" Spencer, Jr. (cousin)
Ethan Lovett (cousin)
Lesley Lu Spencer (cousin)
Valerie Spencer (cousin)
Michael Corinthos III (son; with A.J. Quartermaine, later adopted by Sonny)
Unnamed Child (May 2000; son; miscarriage; with Sonny)
Morgan Corinthos (son; with Sonny)
Unnamed Child (March 2008; miscarriage; with Jax)
Josslyn Jacks (daughter; with Jax) [Nov 4, 2009]
Mr. Roberts
Jason Morgan (one-night stand)
Tony Jones (affair; deceased)
A.J. Quartermaine (one-night stand)
Sonny Corinthos (affair)
Roy DiLucca (flirtation)
Zander Smith (kissed)
Lorenzo Alcazar (affair)
Steven Lars Webber (dated)
Patrick Drake (dated)
Jasper Jacks (engaged)
Shawn Butler (kissed)
Johnny Zacchara (lovers)
Todd Manning (one-night stand)
A.J. Quartermaine (kissed while pretending to date; later a one-night stand)
Julian Jerome (while using the alias Derek Wells, kissed)
Robert "Franco" Frank [Engaged: Sep 23, 2014; broken engagement: Nov 3, 2014 (Oct 31, 2014 on the show)]
Sonny Corinthos (affair)
Stole Charlotte Roberts' identity after she 'died' when they were teenagers
Seduced her mother's husband to get back at her mother for putting her up for adoption [1996]
Stole drugs from Tony Jones's medical bag [Aug 1997]
Drugged A.J. Quartermaine [Aug 1997]
Dumped a drugged A.J. in an alley, and set it up to look as if A.J. had started drinking again [Aug 1997]
Attempted to pass her unborn child off as Tony Jones's child [Fall 1997]
Lied about Jason Morgan being her unborn child's biological father [Dec 1997]
She shot Tony Jones, her ex, after he was not sent to jail for kidnapping her son [Apr 24, 1998]
Breaking and entering; broke into Hannah Scott's apartment to dig up dirt on her [Oct 1999]
Broke into Hannah's lock box [Oct 1999]
Adultery with Sonny Corinthos (while married to A.J.) [Nov 29, 1999]
Purposely embarrassed A.J. in front of European investors at an ELQ party by dressing up as a hooker [Jan 7, 2000]
Pulled a gun on A.J. [Jun 2, 2000]
Tape-recorded one of Sonny and Sorel's meetings [Aug 18, 2000]
"Blackmail"; threatened to withhold sex from Sonny if he didn't turn over his one share of Deception [Dec 13, 2000]
Manipulated Gia into locking Laura on the roof [Mar 2001]
Along with Roy DiLucca, set Sonny up to be arrested by the FBI [Apr 2001]
Trespassing/Theft; let herself into Angel Ellis's home to snoop around and stole a roll of film [Sep 5, 2001]
Helped fugitive Angel Ellis skip town [Oct 25, 2001]
Locked Skye Chandler in the boathouse [Mar 25, 2002]
Lied about the details behind her car accident/disappearance [May 2002]
Embezzled money from Club 101 to pay for her fertility procedures [Jun 2002]
Drugged Ric Lansing and threatened him with a gun [May 2, 2003]
Pushed Courtney Matthews' car off a cliff to cover up Courtney's involvement in Elizabeth Webber's hit-and-run [Sep 12, 2003]
Stabbed Jason Morgan with a syringe filled with sedatives [Jan 15, 2004]
Adultery with Lorenzo Alcazar (while married to Sonny) [Winter to Spring 2004]
Arrested for violating a restraining order restricting her from visiting her children [Feb 4, 2004]
Blackmail; threatened to tell Sonny that he is Kristina Davis' father if Alexis didn't agree to be her attorney during the custody battle [Feb 20, 2004]
Perjury; told the court that Sonny never suffered from mental instability [Mar 9, 2004]
Knocked Lorenzo out, and held him captive in the basement [Apr 2004]
Stole her mother's diary hoping to find clues about her biological father [Summer 2004]
Set fire to Ric Lansing's apartment in an attempt to destroy a file that incriminated Sonny [Nov 2004]
Broke into Reese's apartment (Carly's former apartment) [2005]
Stabbed Emily [Fall 2005]
Caused Car accident that led to Elizabeth's miscarriage [Winter 2005]
Assorted crimes while trying to find the serum to cure the Viral Epidemic [Spring 2006]
Switching the tests of Spencer Cassadine's paternity results [Summer 2006]
Fraud; Pretending to be Lorenzo's wife to plant evidence [Summer 2007]
Gave Diane false evidence to get Jason cleared of murder charges [Summer 2007]
Manipulated Sonny into giving up custody of his children by seducing him [Summer 2008]
Hired Damian Spinelli to break into law firm to steal custody papers [Jan 2011]
Aiding Shawn Butler, freelance mercenary for Theo Hoffman, after a shootout [Feb 2011]
Ordered a hit on Franco [Jun 10, 2013]
Conspired with Franco to withhold A.J. Quartermaine's phone from the police [May 6, 2014]
Withheld information about the murders of Connie Falconeri and A.J. Quartermaine from the police [May 2014 to Nov 2014]
Nearly died of severe hemorrhaging when Michael was born [Dec 1997]
Committed to a mental hospital after shooting Tony in open court [Apr 1998]
Fell down the stairs at the Quartermaines' during a fight with A.J. and miscarried her baby with Sonny [May 2000]
Fell through ice while walking Michael off of a frozen pond [Apr 1, 2003]
Accidentally shocked herself while trying to communicate with Jason from her Panic Room prison in Ric's house [Jun 20, 2003]
Accidentally shot by Sonny while in labor [Oct 24, 2003]
In a coma after being shot and awoke to discover her memories of love for her family were missing [Nov 2003]
Checked herself into the Shadybrook Sanitarium in an attempt to get Lorenzo Alcazar out of her thoughts [Jan 14, 2004]
Checked into Roselawn Sanitarium after suffering a nervous breakdown [Winter 2005]
Suffered a bump on her head during the Metro Court explosion. She was checked and released at the hospital. [Feb 2007]
Injured in an explosion at the docks and suffered from hypothermia [Spring 2008]
Suffered a miscarriage from injuries sustained in the explosion at the docks. [Spring 2008]
High risk pregnancy [Spring 2009]
Fell down stairs at hospital during fight with Claudia Zacchara [Spring 2009]
Sustained a broken wrist after being involved in a car accident [Aug 2011]
Stabbed in the arm and given a sedative by Heather Webber [Jan 16, 2014]
Hospitalized and treated for minor injuries and dehydration sustained while being held captive by Heather Webber (held captive from Jan 8, 2014 to Feb 12, 2014; hospitalized Feb 12, 2104]
Carly arrived in Port Charles in the spring of 1996 with an agenda. She resented her birth mother, Bobbie Jones, for giving her up for adoption, and Carly wanted to destroy her mother's life. Carly didn't understand that Bobbie had been a teenager living in a brothel and prostituting to support herself. All Carly could see was the life that Bobbie lived now.
Carly quickly put her plan in motion and seduced her mother's husband, Tony Jones. Carly moved in with Tony as soon as his divorce with Bobbie was final. One evening, Carly and Tony had a bitter fight. Carly ended up at Jake's, hoping to find her newest friend (and sometimes lover), Jason Morgan. Instead, Carly found Jason's brother, A.J., and the two of them got drunk and had a one-night stand. The next day, Tony and Carly reconciled, and it wasn't long before Carly discovered she was pregnant. She tried to pass the baby off as Tony's, but she revealed the truth during a heated argument with him. A.J. had not initially remembered that fateful night with Carly, as he was an alcoholic and had blacked out. Around this time it also came to light that Carly was Bobbie's long lost daughter.
Tony and Carly split, and Carly turned to Jason, who felt sorry for her. Carly was terrified that her baby would be taken away from her after it was born, so Jason claimed that he was the father. It was a ploy to protect Carly's custody but it had far reaching ramifications, because it meant lying to Robin, the woman he loved. Carly's labor and delivery was difficult, and both mother and child nearly died. After her son was born they learned that Michael had serious heart complications. It was a condition that both A.J. and Alan had suffered at birth. Jason lied to his family, insisting that he was the father. Carly meanwhile couldn't deal with any of it. She told Jason that she needed to get away and she left town for an extended period of time. She returned in time for Michael's christening.
Carly moved in with Jason in part to learn how to take care of Michael and in part because she had nowhere else to live. Tony was disgusted at the thought of Jason and Carly raising Michael and decided to kidnap him. He also ended up kidnapping Robin as well. Jason managed to rescue Robin and Michael just in the nick of time. Robin, who is HIV-positive, didn't have her medications and as a result grew gravely ill. She made a recovery in time for Tony's trial. Carly was furious when Tony was only given community service for kidnapping her son. Deciding to seek her own form of justice, Carly pulled out a gun and shot Tony in open court. Jason made sure that Carly was sent to Shadybrook, instead of jail for attempted murder.
When Carly was released, she found that Jason and Robin were living in Brenda's old cottage, raising Michael. Resenting the relationship, Carly set out to break them up. Eventually Robin grew tired of Carly's games and lies, and Robin revealed the truth to A.J. Jason was devastated by Robin's betrayal, and he and Robin split up. Robin realized that the wounds were too raw, so she decided to move to Paris and pursue her medical degree.
Carly's happiness over Jason and Robin's breakup was short lived when she learned A.J. intended to assert his paternal rights. She and Jason made arrangements to leave the country with Michael, but at the last minute Carly panicked, went to the Quartermaine Mansion, and told them that Jason kidnapped Michael. After Sonny told him what had happened, Jason returned to Port Charles and learned that Carly intended to marry A.J., drive him to drink and have him declared and unfit parent. She wanted a year to see the plan through. Jason thought the plan was ridiculous but realized there was no stopping Carly.
Carly's marriage to A.J. was short lived, and she soon decided that she'd leave him. Carly wanted to tell Jason the news, but when she caught up with him he was inside Kelly's slow dancing with Elizabeth. Carly misread the scene and stormed over to Sonny's, intending to gather information from him about Jason and Elizabeth's relationship. Instead, Carly and Sonny ended up having sex. It was Jason's turn to feel betrayed when he found Carly and Sonny together the next morning. Hurt, Jason left the penthouse without telling either that he'd been shot earlier.
Carly later learned she was pregnant, and in true form, didn't want to tell Sonny that he was the father. After falling down the stairs during a fight with A.J., Carly suffered a miscarriage. She and Sonny grieved for their child and slowly fell in love. They would marry several times over the years and hurt each other deeply, but through it all their friendship would prevail.
Their love was truly tested shortly after Carly got pregnant with their son Morgan. By this time Sonny's brother Ric had come to town and was determined to destroy his brother. Ric's wife, Elizabeth, was pushed down a flight of stairs and miscarried their child. Believing Sonny was to blame, Ric kidnapped Carly and held her captive in a panic room in his house that even Elizabeth didn't know about. Ric intended to kill Carly after the baby was born and raise it with Elizabeth.
Carly was terrified and tried everything to escape. Finally, hope came when Elizabeth accidentally found the panic room. Unfortunately, Ric had been secretly giving Elizabeth birth control pills so that she wouldn't get pregnant. Elizabeth had a nearly fatal reaction to them and collapsed from an aneurysm before she could free Carly. Ric realized that he couldn't keep Carly a prisoner any longer and set her free. Carly was not to be reunited with her family though.
Lorenzo Alcazar, one of Sonny's enemies, had come to town and was intrigued with Carly. He quickly abducted her and took her to his private yacht where he initially kept her to use as a pawn against Sonny. Lorenzo's feelings for Carly grew, and she was also attracted to him. Eventually Ric helped Sonny and Jason rescue Carly from Lorenzo's compound, and Carly was returned home.
Then came the night of Morgan's birth, when Carly ended up stranded in the new house Sonny had just surprised her with as a storm raged outside. Carly slipped and took a tumble down the stairs, which sent her into hard labor. Courtney found Carly and went for help but ended up in a car wreck. Lorenzo found Courtney and managed to get to Carly just in time to deliver the baby. Outside, Sonny arrived just in time to hear Carly scream. Fearing for her life, he kicked the door open and fired at Lorenzo. With Lorenzo incapacitated, Sonny rushed over to help Carly deliver their son. Carly looked at her son then passed out. The bullet Sonny fired passed through Lorenzo and hit Carly in the head. A thin trickle of blood ran down her forehead as Sonny realized what had happened.
Carly was rushed to the hospital and underwent life-saving surgery. She lingered in a coma where she lived an alternate life with Lorenzo, who was a scholar in the dream. When Carly woke up, she only responded to Lorenzo. Her love for her husband and children were gone. She tried to recapture what she lost but it was difficult. It took almost loosing Sonny to attempted murder charges for Carly to find her love. During a bitter argument with Lorenzo, Carly collapsed. When she woke up her feelings for her loved ones were restored but she had a new problem. She was starting to experience vivid erotic daydreams about Lorenzo. They occurred with such frequency that Carly was beginning to have difficulty coping with everyday life. Desperate for help, Carly checked herself into Shadybrook.
Faith took advantage of Carly's weakness and had her drugged. Lorenzo visited Carly and realized that something was seriously wrong with her. He whisked her out of the sanitarium and to his cabin in the woods where he helped her recover. Sonny, who'd been stranded on an island in the middle of a hurricane, came home and found Carly at the cabin telling Lorenzo that she couldn't see him anymore. It was a tearful parting and Sonny realized that Carly's feelings for Lorenzo were less than platonic. Sonny walked away and wound up in bed with the first woman he saw, Sam McCall, who was hurting from her break-up with Jax. Carly, determined to make Sonny understand that she had ended things with Lorenzo once and for all, found Sonny at the hotel. She walked in on him and Sam, so she rushed back and made love with Lorenzo for the first time.
Carly's erotic fantasies stopped, and she and Sonny would reconcile. There would be troubles, though. Sam McCall learned that she was pregnant with Sonny's child and had moved across the hall with Jason. Jason and Sam soon began having feelings for each other and decided to raise the baby together, much to Carly's dismay. Carly didn't think much of Sam and wanted her out of their lives. Around this time Alexis Davis's daughter, Kristina fell ill. Carly struggled with keeping a long held secret. Carly knew that Kristina was actually Sonny's child, not Ned's, as everyone believed.
A couple of years earlier, during one of Carly and Sonny's splits, Sonny had an affair with is attorney, Alexis. Carly had found them in bed together, and ran off. She ended up in a car accident, but after all her memories came flooding back to her, she decided to stay missing for a while. She came home when she read that they were planning a memorial. Carly and Sonny would reconcile, and later, Alexis would learn she was pregnant with Sonny's child.
During a hotel fire, trapped in an elevator together, Alexis told Carly the truth about Kristina. She wanted Carly to know in case she died and Kristina needed Sonny. Carly decided to keep Alexis's secret because of her own history with A.J. and Michael. Faced with Kristina's failing health, Carly realized that the truth had to come out. Sonny reacted just as Carly had feared and told her that he could never trust her again. Carly was hurt that Sonny couldn't forgive her, so she moved out and started to rebuild her life. Kristina recovered after Sam suffered a ruptured placenta and gave birth to a stillborn baby girl. The baby was a match and Kristina received a life-saving transplant.
Carly focused on her life and found her biological father, John Durant. John was a federal prosecutor, who specialized in organized crime. John was ruthless and determined, but he also had a soft spot for his daughter. Carly was also casually dating Dr. Steven Webber. The romance would end up on hold when a horrific event rocked Carly's world. Kristina, Michael and Morgan were kidnapped.
It would be revealed that Faith Roscoe, hired by A.J. Quartermaine, was paid to kidnap all of Sonny's children so that A.J. could reclaim his son Michael. The plan worked. Michael's murder was staged, the "evidence" found after Sonny and Jason rescued Kristina and Morgan. Carly refused to believe that Michael was dead, even as she and Sonny sat at his memorial.
Eventually, Carly would be reunited with Michael, and A.J. was arrested. Injured in the capture, A.J. would never see the inside of a courtroom or jail cell. Cuffed to a hospital bed and paralyzed from the waist down, A.J. was a sitting duck for Dr. Asher Thomas who smothered him with a pillow. Moments earlier, a traumatized Michael had entered the room and started to do the deed himself. When he heard a noise, Michael dropped the pillow and hid. He witnessed the murder and blocked it out.
Carly tried to help her son, but A.J.'s brain-washing on the young boy had worked. Michael would shut down around Carly. She was forced to watch as Michael opened up to FBI agent Reese Marshall. Reese was an agent who was an expert in child abductions. Her own young son had been abducted and murdered years earlier.
As Reese and Sonny grew closer the more Reese helped Michael, Carly grew increasingly irrational and hostile toward Reese. There was something about Reese that Carly didn't trust but no one would listen to her. She was also having great difficulty seeing Sonny moving on with someone else. In a desperate need to prove her independence, Carly became involved with Lorenzo Alcazar again. Before long, Lorenzo asked Carly to marry him. She accepted after she saw Sonny arrive to Jax and Courtney's wedding with Reese. Despite Michael's strong objections and fragile state, Carly married Lorenzo.
The marriage was shaky from the very beginning. Carly's own mental state was fragile. She was easily agitated and often irrational. The focus of her attention was Reese. She was almost paranoid about the woman at this point and people were starting to notice it. Carly's instincts proved to be right when Reese admitted to Sonny that her real name was Carly Roberts. She had been Carly's best friend who supposedly died tragically and whose identity Carly had assumed years earlier. Reese further told Sonny that what lead to the accident was finding out that 16-year old Carly had slept with Reese's father, Dr. Roberts. Reese's mother filed for divorce immediately, and Reese's world was shattered. Carly, expecting Reese to understand and forgive, tried to talk to Reese about what had happened but Reese refused to listen and jumped into her car, speeding off.
The crash had been horrific and Reese was left in a deep coma with a shattered face. Her mother, in a moment of spite, told Reese's father that Reese had been killed. Dr. Roberts, despondent over everything he lost, eventually took his own life.
Carly's memory was slightly different. Carly had been an impressionable 16-year old who had been seduced and taken advantage of by an older man. Learning that Reese was the real Carly Roberts pushed Carly over the edge. She had a complete breakdown and ended up being institutionalized. Reese would later die of injuries sustained in a train crash, and Carly would make a complete recovery.
Carly's life would take an unexpected turn when her best friend, Courtney, died shortly after giving birth to a baby boy. Determined to be the mother for Courtney's son, John, Carly put aside her dislike of Jax and vowed to help him with the baby in any way that she could. Slowly Carly began falling in love with Jax. When he confessed to her that he wasn't really John's father, as everyone believed, Carly stood by his side. She helped Jax keep the truth about the baby from his real father, Nikolas Cassadine. She even switched the results of a paternity test to preserve the secret. Those efforts turned out to be wasted. Robin Scorpio had learned the truth about John's paternity and at his christening, revealed the truth to Nikolas. Nikolas immediately claimed his son, and a short while later re-named him Spencer to honor his mother and siblings.
Jax and Carly were devastated over losing John. For a while they feared that John was all that had kept them together, but they would soon realize that even without John they loved each other deeply. They would make several attempts at marriage but at the last minute something would happen to prevent it. One of those times, it was Jerry Jacks calling his brother for help. Jax took off immediately, and Carly was crushed.
While Jax was gone, Carly married Sonny to keep from being forced to testify against him. Carly had walked in just as Lorenzo was preparing to shoot Sonny in cold blood. The interruption allowed Sonny to defend himself and Lorenzo ended up gravely wounded. Things were further complicated when a short time later, Sonny and Carly ended up as hostages in the Metro Court crisis that introduced James Craig to Port Charles. James Craig would turn out to be Jerry Jax, who had arranged for Jax to chase a false trail so that he wouldn't be in danger of the international arms deal that was taking place in Port Charles. With Lorenzo in the hospital, James Craig stormed the Metro Court and took hostages when the alarm was activated and the vault locked.
Carly and Sonny grew close during the hostage crisis, and made love afterwards. Carly realized immediately that sleeping with Sonny had been a huge mistake, and she told Jax the truth when he came home. After Jax realized that he was partly to blame because he had abandoned Carly, Jax and Carly reconnected and decided to stop putting off their wedding. As soon as Carly's divorce to Sonny was final, Carly and Jax got married in a lavish but quickly arranged wedding.
Their marriage would not be without bumps. Jerry would once again draw his brother out of town so that he could take care of his business without worry about Jax. Despite their vow that Jerry would never come between them again, Jax's brother could always put a tremendous strain on Jax's marriage to Carly. Despite struggling with fertility issues, Carly became pregnant with Jax's daughter. She would miscarry after being caught in an explosion with Michael.
Carly seemed to be pushed to her limits, when Michael was shot in his father's coffee warehouse and left in what appeared to be a permanent coma. After making the heart-wrenching decision to put their son in a long-term care facility, Carly and Sonny had sex. Carly also asked Sonny to give up his parental rights to protect Morgan from more mob violence.
Jax learned of Carly's one-night stand with Sonny, and he filed for divorce. Their relationship was further compromised when Carly rescued Sonny, who had been left for dead by a rival Russian mobster. Jax overheard Carly lie as she told the police that she and Sonny had been having sex when the Russian had been killed.
When Jax learned that his brother was presumed dead, Carly attempted to comfort Jax. He still intended to file for divorce, but after the holidays, Carly and Jax decided to try dating again. It wasn't long before Carly and Jax renewed their wedding vows, and Carly found out she was pregnant. Carly also was informed by her doctor that she had a rare blood disorder that could kill her and also her child. Carly was determined not to terminate the pregnancy, despite warnings from Sonny and even Jax.
Carly's pregnancy was touch and go as stress continued to mount. She and Claudia fell down the stairs at the hospital during an argument, but Baby Jacks continued to thrive. Carly was joyous when her son, Michael, awoke from his coma. Carly's joy would not last long, when she realized her son resented her for sending him to a long-term care facility. Michael left the facility to live with his father, but Sonny's mob ties concerned Carly and she decided to send Michael to live with the Quartermaine family.
Michael and Carly's relationship slowly improved until Carly witnessed a car crash. Claudia was the driver of the vehicle driven off the road, and she suffered a miscarriage of Sonny's child. Sonny had married the daughter of his mob rival, Anthony Zacchara, in a business arrangement, but it hadn't taken him long to consummate the marriage. Despite hostilities toward Claudia, Sonny grieved for his unborn child and became closer to his wife, further infuriating Carly. Both Michael and Kristina had been on the road that night and neither one of them knew who was responsible for the accident. Michael believed he had run his step-mother off the road, and Kristina allowed him to take the blame. They both decided to run away to Mexico to escape the heartache around them.
Carly's heart ached as her son was taken away from her yet again. Jason and Sam soon brought the kids back, and the truth was discovered that Kristina had been the driver that caused Claudia's accident. Carly's relationship with Michael remained strained as he struggled to control his anger and mood swings and he was disappointed when Sonny hired a bodyguard named Dominic to watch over them. Morgan bonded immediately with Dominic and Jax asked Dominic to move in with them in hopes of easing the tension as Michael adjusted to life back at home.
The concern over Carly's pregnancy continued but she insisted she could still handle her duties at the Metro Court. She personally oversaw the party that Sonny had planned for Claudia's birthday and showed up at the event when she learned Michael was in attendance. Sonny did not want Michael or Carly at the party because he planned to use the event to publically destroy Claudia by exposing her role in Michael's shooting. Claudia had ordered the hit on Sonny that ended with Michael in a coma. Sonny enacted his revenge and Claudia reacted by taking Carly hostage at gunpoint as she went into labor.
Claudia forced Carly into a car and they headed toward Canada. Despite the contractions, Carly was able to cause Claudia to crash the car. She left Claudia unconscious near the car and headed for shelter to have the baby. Claudia found Carly in an abandoned cabin and helped her deliver the baby girl. Afterwards, Claudia referred to the child as hers and seemed to ignore that Carly was actually the baby's mother. Michael arrived shortly after and saw Claudia holding his baby sister while Carly cried out for her child. He responded by hitting Claudia over the head with an axe and she was killed.
Jason and Sam arrived next at the cabin. Sam took Carly and her daughter to the hospital while Jason contacted Sonny in order to plan the cover up of Claudia's death. Jax met Carly and their daughter at the hospital and they were relieved to hear that both Carly and Josslyn, their daughter, were fine. The happy family reunion was short-lived when Jax disagreed with Carly's decision to lie about Michael's involvement in Claudia's death. He spoke about the guilt Michael would carry and then Jax confessed the source of his own guilt. He admitted that he had received a DVD from his brother months ago that detailed the parts both Claudia and Jerry had played in Michael's shooting. Jax claimed he wanted to spare Carly the stress during her pregnancy and Carly accused Jax of putting their daughter ahead of Michael and she kicked him out.
Carly remained angry at Jax and ordered him to stay at the Metro Court. Eventually, she allowed him to move back home into a guest room so he could be near his daughter and Morgan. Carly was unsure if she had made the right decision in covering up Michael's role in Claudia's death after he seemed to show no remorse for what he had done and instead had an increase in his desire to enter Sonny's organization. Carly discussed her decision with Jax and he told her it was too late to change the story about the night of Claudia's death, especially since Sonny was on trial for her murder.
The secret of what had really happened to Claudia became harder to keep when a mysterious artist named Franco made contact with Jason and Carly. He had pictures of Claudia's dead body and admitted that he knew Michael was behind her murder, not Sonny. Franco used the information to get Jason's attention, but the real threat to exposing the truth was actually Dominic.
Dominic was an undercover cop named Dante Falconeri, and he was Sonny's son with Olivia Falconeri. Jax had known Dante's true identity and had paired him with federal prosecutor Claire Walsh to pin Claudia's death on Sonny even though Jax knew Michael committed the crime. Carly was horrified when she realized the lengths Jax would go to in his vendetta against the father of two of her children.
Carly received more bad news when Dante uncovered the truth about Claudia's death and Michael was sentenced to prison. Jason also headed to prison when he pled guilty to various charges and became Michael's cell mate in order to protect him. Carly was distraught and turned her focus to revenge. Her targets were Dante and his girlfriend Lulu. Carly was angered that Lulu had known that Dante was a cop and had chosen to keep his secret instead of warning the family. Carly hired Brook Lynn Ashton to seduce Dante away from Lulu and she convinced Spinelli to help her plant evidence to destroy Dante's career.
Amidst the anger and sadness, Carly turned to Sonny and they had sex. Afterwards, she asked Sonny to keep his distance from Morgan to prevent him from going through the same troubles as Michael. She also asked Jax to formally adopt Morgan even though they had filed divorce papers. Jax agreed to be Morgan's father and he told Carly he would continue to help the authorities convict Sonny. She gave her consent after Jax explained that the courts may release Michael if Sonny were incarcerated instead.
Everyone close to Michael, including Edward Quartermaine, tried to arrange for Michael's release from prison. Dante succeeded. He convinced a judge to release Michael into his custody. Carly was disappointed to learn that Michael needed to live with Dante and she did her best to honor Michael's request that she give up her hatred of him. In Michael's presence, she was civil to Dante but whenever he was not around, she let Dante know she still blamed him for what Michael had gone through. She was also angry that Jason remained in prison.
Carly was relieved that Michael was out of prison but she worried when Franco made contact again. She and Jax bonded when she consulted him first on how to handle the threat. They agreed to involve the police and Carly believed she and Jax were taking steps toward reconciliation. She questioned Jax's feelings when she saw him flirting with Skye Quartermaine, his former wife. Carly responded by cozying up to Steven Webber in front of Jax. She and Jax continued to dance around their feelings for one another while they started spending more time together with their children.
Michael was included in the family activities that Carly and Jax planned and he occasionally joined them. Carly worried about him because his time in prison had changed him and she continued to blame Lulu and Dante. She instructed Brook Lynn to succeed in her seduction of Dante and to make sure Lulu caught them in the act. Dante remained faithful to Lulu until Brook Lynn drugged him. Lulu realized Dante had been drugged and she went after Brook Lynn. Under attack from Lulu, Brook Lynn admitted that Carly had paid her to break apart Lulu's relationship. When Carly was confronted, she told Lulu she wanted to test Dante's faithfulness in case he had inherited Sonny's propensity to stray in relationships.
The relationship between Lulu and Dante was not broken apart as Carly had planned but she turned her focus to her own relationship with Jax. They reunited and he moved back in, but Carly worried their happiness would be short-lived once her nemesis Brenda Barrett returned to Port Charles. Brenda was the target of a mobster named the "Balkan" and Sonny, Jason, and Jax all were involved in protecting Brenda. Carly repeatedly pushed the men in her life to choose her over Brenda and was disappointed when they all refused.
Carly sensed something was off between Brenda and Dante and she encouraged Spinelli to search for a connection between the two. Along with the help of Diane Miller, they uncovered that Brenda and Dante had a child together, but Dante had signed away his rights to the child. Carly was thrilled with the information but decided to wait on sharing the secret. She was not pleased to learn that Sonny and Brenda reunited and planned to marry and she hinted repeatedly to Sonny that he should not trust his fiancée. Sonny refused to listen and proceeded with his plans to marry Brenda.
As the wedding date for Sonny and Brenda neared, Jax repeatedly advised Brenda not to marry Sonny and he left town to follow a lead on the Balkan. Carly wanted Jax far away from Brenda and he had lied about the nature of his trip. When she learned what he had been up to, Carly kicked Jax out and declared they were over.
Amidst the drama Carly involved herself in related to Brenda, she had a real reason to demand Sonny's attention. Michael opened up about his time in prison and admitted that he had been raped before Jason joined him as his cellmate. Jason was aware an inmate had harmed Michael in some way and he had killed the man. Michael shared his experience with Jason and his mother, but he did not want Sonny to know. Carly overruled Michael's wishes and told Sonny what Michael had been through.
Sonny and Carly spent time together as they determined the best way to support Michael. The feud between Brenda and Carly continued and Brenda accused Carly of using her children to keep Sonny close and she blamed Carly for trying to sabotage her wedding. When Sonny and Brenda's wedding day arrived, they anticipated that Carly would try to stop the wedding. Carly interrupted the ceremony and revealed that Dante and Brenda had a child together. The wedding carried on as planned after Brenda explained that Dante agreed to be the father of the child on record so the true paternity would not be revealed. The father of Brenda's child was the Balkan's son but she had suffered a miscarriage late in her pregnancy.
Carly was disappointed by Sonny's decision to forgive Brenda after she had lied to him and she left the wedding. On her way home, she saw an injured man on the side of the road. It was Shawn Butler, a man she had met a few weeks earlier when he had helped Molly Lansing deal with the after effects of a bus crash. Shawn had a gunshot wound and he held a gun on Carly and ordered her to help him. She took Shawn to her home and cared for him even after he admitted he had worked for the Balkan, which angered Jax.
The continued association Carly had with mobsters prompted Jax to seek full custody of their daughter. He would allow Carly to see Josslyn whenever she wanted, but in the safety of his home. Carly wanted to work out a joint custody arrangement but Jax refused. Their attacks on each other regarding Josslyn were set aside when she spiked a high fever and Jax took her to the hospital. Carly raced to the hospital to be with her daughter and learned that Josslyn had kidney cancer and needed to start chemotherapy immediately.
At the same time Carly dealt with the news of Josslyn's diagnosis, Jason's son Jake died after being the victim of a hit-and-run. Jake's kidney was a match for Josslyn and as Jason grieved his son, Carly asked Jason to allow his son to save her daughter's life. Elizabeth Webber, Jake's mother, agreed to the transplant and Josslyn received Jake's kidney. After the transplant, Carly learned she might have been the driver of the hit and run but she was cleared when Luke Spencer was named the driver.
Once Josslyn was on the mend, the custody battle between Carly and Jax raged on while Franco made a threat against Josslyn again. Jason was preoccupied dealing with the loss of his son so he hired Shawn to guard Carly and her daughter, although Jax did not want Shawn around. Jax threatened to make Sonny's children testify about the violence they had experienced and the court appointed mediator leaned in Jax's favor. He also uncovered details in Shawn's past that he would use against Carly in the custody hearing unless she fired Shawn. Carly feared she was about to lose her daughter and she turned to Sonny for help. Sonny uncovered that the mediator had taken a bribe from Jax and he blackmailed her into helping him set Jax up on drug and sexual assault charges. Jax was arrested and the judge awarded Carly full custody of her daughter.
After the hearing, Carly was grateful she had custody of her daughter but she worried about the harm that Sonny had done to Jax by humiliating him and destroying his reputation. Carly offered once more to share custody with Jax but he claimed he was leaving town. Brenda was furious with Sonny for setting up Jax and it was the final piece that pushed Brenda to end her turbulent marriage. Brenda left town with Jax on his jet, which angered Sonny.
Shortly after Jax left, Shawn returned to town and warned Carly that he sensed Jax would return to take his daughter. Carly dismissed his concern until she heard that Jax was back in town. She and Jason set off to protect Josslyn but they were involved in a car accident before they reached her. Jason suffered head trauma and was hospitalized, whereas Carly broke her wrist. Shawn tried to stop Jax from taking Josslyn but Jax triggered Shawn's post-traumatic stress disorder, which provided Jax enough time to escape.
When Carly learned that Jax had taken Josslyn, she refused to contact the police in fear of causing further problems for Jax. She also wanted to prevent Sonny from finding Jax, as he believed Brenda had been taken from him by Jax and Sonny wanted Jax dead. Shawn was able to track Jax down and he convinced him to hand Josslyn back over to Carly. Sonny also found Jax and held a gun on him. Jax escaped on his plane, but he was unaware that Sonny had tampered with it. His plane crashed and he was presumed dead although his body was not found.
Carly blamed Sonny for going too far in his revenge against Jax and she ordered him out of her life. She also changed Morgan's last name and sent him away to a military school where Sonny would have no influence and would not be able to see him. Carly worried about Jason as he recovered from brain surgery after the accident. Shawn remained in town and became Carly's confidant when she suspected Jax might be alive. Carly decided to hide her theory so Sonny would not go after him again.
Shawn also counseled Carly in dealing with Jason's marriage to Sam. Shawn had been hired by Jason to fill in for him while he honeymooned in Hawaii. One of Shawn's assignments was to keep watch over Carly and Josslyn and Carly enjoyed flirting with Shawn although he kept her at a distance. They worked together to outwit the police when a shooting occurred at Sonny's warehouse to ensure the police did not find the illegal drugs that were planted there. They were briefly trapped in a panic room together at the warehouse and the tension mounted between them, although Shawn continued to deny it.
Franco resurfaced and made threats against Josslyn again. Carly and Josslyn joined Shawn on his trip to Hawaii to warn Jason about the danger. While in Hawaii, Carly and Shawn shared a kiss. In the days that followed, Shawn tried to avoid Carly yet they continued to be drawn toward one another, especially after Shawn moved in with Carly as her bodyguard. Carly asked Shawn to take a chance on figuring out whatever was between them instead of pulling her close only to push her away.
Shawn declined the offer to pursue a relationship with Carly but remained her friend while she dealt with the fallout of keeping the secret that Jax was alive. Michael overheard a conversation between Shawn and Carly in which she admitted that she had allowed everyone to believe that Jax was dead. Michael was hurt that his mother had allowed him and everyone else to grieve for Jax and he made the secret public at the party Carly hosted to ring in a new year. Carly was verbally attacked by several Port Charles residents but Shawn remained by her side.
Afterwards, Michael remained upset with Carly as he continued to deal with the death of his girlfriend Abby and he turned to Johnny Zacchara. He asked Johnny for a position within the Zacchara organization but Carly went to Johnny and offered to sleep with him in exchange for turning Michael away from his crime syndicate. Johnny agreed to the terms although Carly stalled in fulfilling her part of the agreement. In the meantime, she asked Luke to dig up information on Johnny that she could use to blackmail him. Carly had a change of heart after Johnny admitted that he would never have hired Michael regardless of what Carly had offered him and he would not hold Carly to her end of the bargain. He had only been curious to see how far Carly would go to protect her son.
Even though Carly no longer had a need for blackmail, Luke unearthed a secret about Johnny and he sold the information to Sonny. The damning information was Johnny's original birth certificate which listed Claudia as his mother and former mob rival Gino Soleito as his father. Johnny's world fell apart when he learned the truth about his parents and Carly felt responsible for the secret falling into Sonny's hands. She listened to Johnny and provided him with advice on how to deal with the news. As she spent time with Johnny, she developed feelings for him.
The flirtation between Carly and Johnny continued and Johnny became a welcome distraction after Jax sold his shares of the Metro Court to Kate Howard. Carly and Kate struggled for power at the hotel and they argued over a benefit Sonny planned to host at their venue. On the night of the event, Carly and Johnny became lovers after Sonny publically announced that Claudia had been Johnny's mother. Eventually Johnny and Carly made their relationship public although several people warned Carly that Johnny was only using her to get back at Sonny. She ignored the warnings but she regretted placing her trust in him after she walked in on him in bed with Kate.
Johnny apologized profusely for hurting Carly and he confused her when he referred to Kate as "Connie." Carly learned that Kate suffered from dissociative identify disorder and Johnny had actually slept with Kate's alter named Connnie. Regardless, Carly refused to forgive Johnny although he vowed to win her back. As Carly dealt with Johnny's betrayal, she bonded with Sam and gave Jason advice on dealing with Sam's pregnancy. She also worked to protect Michael from the wrath of a guest at the Metro Court named Todd Manning.
Todd had issued Carly a friendly warning after Michael turned Todd's daughter Starr over to the police after she held Sonny at gunpoint. Todd wanted Michael to recant his statement and Todd and Carly found common ground in their fierce protectiveness over their children. Todd also advised Carly not to forgive Johnny but she ignored the advice and resumed her relationship. Despite the difference of opinion over her choice in boyfriends, Todd and Carly developed a friendship while their children, Michael and Starr, started a romantic relationship of their own.
Carly appreciated Todd's show of support after her daughter Josslyn was gravely ill after being injected with a mysterious substance. Carly reached out to Jax and he arrived in Port Charles to see Josslyn. Their daughter recovered but they each were exposed to the deadly toxin that Jerry placed in the town's water supply. While Jax tried to reason with his brother, Todd comforted Carly and they helped supply the money that Jerry demanded in exchange for the counteragent.
Eventually the counteragent was secured but Carly reevaluated her relationship with Johnny. He had been shot during a scuffle with Jerry and Carly decided to fully commit to him and she proved her love by honoring Johnny's request that she divorce Jax. Carly cared for Johnny after he was shot but she sensed that he was hiding something from her. He confessed that he had used his mob connections to secure funds to purchase the counteragent but now was indebted once again to the mob. Carly assured him that she understood but declined his request to sail away with her on the Haunted Star the night before Sonny's wedding to Kate.
The next day Carly and Johnny attended Sonny and Kate's wedding but no wedding occurred. Kate's alternate personality Connie emerged and confessed that she was not free to marry Sonny because she was already married to Johnny. Carly was enraged and heartbroken after Johnny confirmed that Connie spoke the truth. Carly suspected that Johnny loved her and had married Connie for some other reason and she begged Johnny to be truthful with her. He apologized to Carly and explained that he had fallen in love with Connie.
Carly turned to Todd for comfort and they contemplated taking their relationship beyond friendship but decided against it. She leaned on Todd again after Jason was shot and presumed dead while Michael's father A.J. returned to town very much alive. Todd continued to be Carly's friend and they developed romantic feelings for one another. Todd gained Carly's trust and she slept with him but regretted her decision afterwards when Johnny confessed that he had killed Starr Manning's family and Todd had known for months. Carly learned that Todd had kept Johnny's secret because Johnny had proof of Todd's involvement in switching Sam's healthy son with a deceased child. Carly was further disgusted by him after she realized that he had known that Jason was the biological father of Sam's child.
When Todd was acquitted of his crimes, Carly feared that she would resume her relationship with Todd even though it would cause her pain. In an attempt to avoid the reconciliation, Carly pretended to be involved with A.J. However, the ruse ended after Todd discovered the truth. While Carly tried to get over Todd, she focused on Jax and his engagement to Brenda. Jax revealed that he and Carly were still legally married due to an error in filing. Carly warned Jax that Brenda was still in love with Sonny and set out to prove that she was correct. Brenda enacted her revenge by getting Michael into her bed. Carly found them together and was furious, although Brenda later denied that anything had happened.
After Brenda left town, Carly sparred with A.J. and they fell into bed together. They each regretted their actions immediately afterward and Carly was horrified to learn that while she had been with A.J., Sonny had tried to reach her with news that Morgan was in trouble.
Eventually Morgan returned home and the gambling debt was settled. Carly was not a fan of Morgan's new girlfriend Kiki but her concerns were set aside after Franco was revealed to be alive. Sonny and Carly asked Shawn to kill Franco but Sonny changed his mind when he realized the timing was not right. Despite Sonny's reasons, Carly went behind his back and informed Shawn that the hit was back on. Carly regretted her manipulation after Olivia was hit by the bullet meant for Franco. Although Olivia survived the shooting, Carly and Shawn were both filled with remorse until they learned that the bullet Olivia had been hit with had not been fired by Shawn.
The police focused their search for Franco's intended assailant elsewhere while Carly concentrated on her sons. Both Morgan and Michael developed feelings for Kiki, even though Michael and Kiki believed that they were cousins. Morgan and Kiki eloped but immediately afterward, it was revealed that Kiki and Michael were not related and that Morgan had known the truth. At the same time, Sonny's mental health declined after his girlfriend Connie was murdered. Carly tried to hold the family together but was unable to connect with Morgan after he began sleeping with Kiki's mother Ava Jerome.
Meanwhile, Carly's feelings toward Franco softened after he underwent surgery to remove a brain tumor. The tumor was believed to have caused Franco's poor decisions in the past, including his crimes. Carly befriended Franco and he made his romantic intentions toward her known. They shared a kiss but Carly did not want to fall for him. Instead, she decided to date a businessman that had recently moved to Port Charles named Derek Wells. Derek had an association with Carly's new nemesis, Ava Jerome, and Carly hoped to learn more about Ava while placing space between her and Franco.
Carly changed her mind about Franco after Heather Webber revealed that she and Scott Baldwin were his parents. Carly reached out to comfort Franco and admitted that she cared about him. He returned the sediments and risked his life to rescue Michael. Afterwards, Carly and France became lovers. Franco's mother was not happy with their relationship and made an attempt on Carly's life. When Franco chose Carly over Heather, his mother began to plot her revenge. She kidnapped Carly and pinned her disappearance on Franco.
As Heather's captive, Carly realized that Heather planned to murder her and set Franco up to take the fall. Carly tried to reason with her captor and swore that she would end her liaison with Franco but Heather remained resolved to carry out her plan. Just as Heather was ready to end Carly's life, Franco escaped from police custody and rescued her. During the rescue, Heather shot Franco in the chest. Carly begged Franco to survive and they were both taken to the hospital. As Franco recovered, Carly visited him often and they professed their love for one another.
Carly's relationship with Franco became more serious and she confided in him that Sonny had killed Michael's father A.J. in Ava's defense. Together, Carly and Franco discovered that A.J. had threatened Ava because she had killed Connie Falconeri but framed A.J. Meanwhile, Ava discovered that she was pregnant by either Sonny or Morgan. Carly offered her support to Sonny and became his confidante as he dealt with what Ava had done to Connie, the pregnancy, and his break-up with Olivia. Franco was bothered by Carly's closeness to her ex-husband but she assured Franco that he was the man she loved. To prove her point, she asked Franco to move in with her.
Although Carly tried to build a life with Franco, she grew closer to Sonny and they began sleeping together. Sonny asked her to leave Franco but instead she accepted Franco's proposal of marriage and gift of a necklace. Carly was unaware that the necklace was a camera and that Franco knew she had been unfaithful with Sonny. As the wedding drew near, Carly doubted her decision to marry Franco but she feared that he would tell Michael the truth about A.J.'s murder if she walked away. Her fears were realized during the ceremony when Franco refused to marry her and played a video of Sonny and Carly in bed together discussing A.J.'s death. Michael saw the footage and Carly's relationship with her son was destroyed.
Carly was enraged by Franco's actions and regretted that she had ever believed in him. Her feelings were reinforced when Franco allowed his mother to hold her at gunpoint. Franco locked both women in Sonny's warehouse where Heather had been holding Shawn Butler and Jordan Ashford.

Post a Comment

Share on Facebook

Tweet this

Submit Feedback