Two-time Daytime Emmy nominee Hunt Block (Craig Montgomery) will be leaving As the World Turns in the upcoming weeks. The move to ditch the actor has come as a surprise to both the cast and fans of the CBS soap.
After brief stints on All My Children and Guiding Light - both of which saw his characters meet their demise - Block joined the cast of As the World Turns in July 2000. He and his character immediately fell into favor with then-new head writer Hogan Sheffer. Sheffer, a four-time Emmy winning scribe who was released earlier this year, made no attempt to hide that fact that he enjoyed writing for the character of Craig.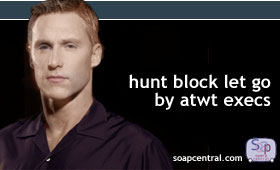 In an amusing email printed in the May 31st edition of Soap Opera Weekly, Block mused that he was fired after demanding that he be allowed to "work only in togas and speak only Pig Latin."
Without elaborating on details, a spokesperson for As the World Turns did confirm that the actor is out.
"Hunt Block is leaving the show," the spokesperson told SoapCentral.com. "The departure is storyline dictated."
Unofficially, a source tells Soap Central that the reason for Block's dismissal was budget cuts. The two Procter & Gamble soaps, As the World Turns and Guiding Light, are both undergoing some serious belt-tightening.
Block last airs on August 11th.