As The World Turns' hunk factor is about to shrink. Two of the show's leading men -- Mark C. Collier (Mike Kasnoff) and Paul Leyden (Simon Frasier) -- will be exiting the show in the upcoming weeks.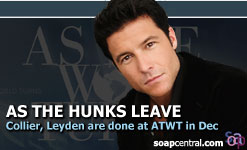 While fans may lament Leyden's exit from the show, Soap Central readers will remember that the actor's stay in Oakdale was always intended to be short-term. Leyden's return in June was the latest in a series of short-term return engagements made by the actor since his exit as a contract player in 2003. He joined the cast in February 2000 and earned a Daytime Emmy nomination in 2002.
Collier's exit, meanwhile, is only slightly more unexpected. Last year, Collier inked a short-term contract extension with the show. He later took a short-term break from the show to pursue a career in primetime television during the pilot season. When Collier returned in April, the network had already put in place story that would accommodate the actor's eventual exit.
Collier joined the cast of As the World Turns in July 2002.
Both Collier and Leyden will tape their final As the World Turns scenes in December. So as not to ruin the impact of the characters' respective exits, final airdates have not been immediately released.
Collier will exit on January 26, 2007.