Emmy-nominated Alexandra Chando (Maddie Coleman) will exit As the World Turns this week. Her exit, whispered about on various message boards for some time now, is dictated by storyline -- or rather lack thereof.
Chando hit the ground running when she joined As the World Turns as an acting newbie in July 2005. Chando's on-screen alter ego, the baby sister of Henry Coleman, was featured heavily during the CBS soap's teen slasher storyline in the summer of 2006.
Though once featured heavily, Chando's airtime was cut dramatic when her on-screen romantic interest, Zach Roerig (ex-Casey Hughes) exited the show earlier this year. Roerig announced in April that he would not renew his contract with As the World Turns. Chando's Maddie was briefly involved in a love triangle with Luke and Noah, however, that involvement has since ended and Maddie was effectively left without story.
It is this lack of story that has prompted the show to write Chando out of the show. Maddie will leave Oakdale to attend Wesleyan University.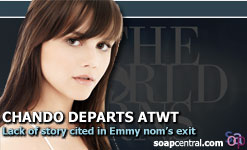 In 2007, Chando earned an Outstanding Younger Actress nod at the Daytime Emmys. The actess also received a pre-nomination in the same category in 2006.
As for what the future holds for Chando, the actress hints that she will visit Los Angeles to try out for the upcoming pilot season. She also does not rule out the possibility of signing with another soap.
Chando will last air on October 26. There are no plans to recast Maddie at this time.