As the Worlds Turns rolls out a trio of recasts this month as three familiar characters return to Oakdale, all of them with new actresses in the roles.
Just in time for the holidays, actress Kelly Barrett assumes the role of Madeline Coleman, Henry's younger sister. It's been over a year since "Maddie" was last spotted in town. In October 2007, Maddie transferred out of town to Wesleyan University to continue her education. Of course, viewers know that Maddie was previously portrayed by Emmy-nominated actress Alexandro Chando. Chando appeared in the role for over two years, but after being front and center in many of the show's teen-leaning storylines, the show ran out of ideas for the character and Chando was written out.
Barrett is a newcomer to the world of soaps; however, she is not without her ties to daytime. Barrett currently appears in the off-Broadway production of Rock of Ages. Barrett's co-star in the production is former American Idol contestant, Constantine Maroulis, who appeared briefly on The Bold and the Beautiful.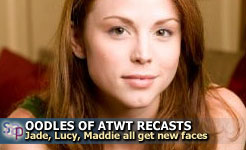 Sarah Glendening assumes the role of Lucy Montgomery, who's been missing in action since December 2006. The role of Lucy was originated in December 2000 by Mamma Mia! star Amanda Seyfried, but actress Peyton List may be best known for the role. List began a three-year run as Lucy in December 2001. She exited the role in January 2005 at the conclusion of her contract with the show. Several months later, newcomer Spencer Grammer, the daughter of Emmy-winning star Kelsey Grammer, took over the role. Grammer's stint as Lucy was muddled with questionable story and less than enthusiastic support from viewers.
Glendening appeared previously on ATWT sister soap, Guiding Light, where the actress had a brief run in 2005 as Nina. She has also appeared on the primetime drama series, Law & Order: Criminal Intent.
Also returning is Jade Taylor, the daughter of the late Rose D'Angelo. Newcomer Davida Williams takes over the role originated in 20067 by actress Elena Goode. While new to daytime television, Williams is no stranger to the acting world. She's guest-starred in numerous primetime programs, including Hangin' With Mr. Cooper, Star Trek: Deep Space Nine, and Lizzie McGuire. She will also appear as a young Wendy Williams in the radio shock jock's bio-pic Queen of Media, due out in 2009.
Williams is first to arrive, debuting on December 17th. Barrett makes her first appearance on December 22. Glendening shows up two days later on December 24.