There's good news and bad news for fans of As the World Turns. The good news is that the show has been picked up by CBS for another year. The bad news is that this may very well be the final year for televisions' second-longest-running dramatic series.
According to insiders, the cast and crew of As the World Turns found out that the show would be picked up for an additional year on the same day that the cast and crew of its sister soap, Guiding Light, learned that their show has been cancelled. Other sources are reporting that it was made very clear that, unless some sort of miraculous ratings surge occurs, As the World Turns will not get another pickup next year.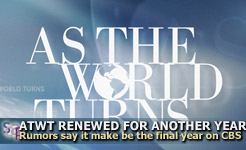 As the World Turns celebrated its 53rd anniversary on April 2nd. Both As the World Turns and Guiding Light are produced by Procter & Gamble's television unit, Telenext Media.
There is word that Telenext is busy shopping both As the World Turns and Guiding Light to other networks in the hopes that another channel will agree to air both programs. Leading candidates appear to be the all-soap cable channel, SOAPnet, and the women's entertainment channel, Lifetime.
Lifetime has a burgeoning schedule of its own original programming, including the recent addition of the hit reality series Project Runway. SOAPnet, meanwhile, has added to its roster of original programming, but they are decidedly less soapy. Because SOAPnet has a lesser reach -- meaning fewer television viewers receive the channel -- than Lifetime, it may be harder for the Disney-owned network to raise revenue to produce two daily soap operas.
Fans hoping that the CW would show an interest, particularly since it agreed to host this year's Daytime Emmys, may be in for a surprise. The fledgling network could have jumped into the daytime market with two soaps of its own, perhaps even bringing about a soap opera renaissance. Sources tell Soap Central that the CW is not a contender, despite its coveted younger demographic.