As the World Turns has scored one of the biggest casting coups of the past year. The CBS soap has signed daytime veteran, Lynn Herring (ex-Lucy Coe, General Hospital/Port Charles), to a newly created role. Herring will play Audrey, the "gold-digging mother" of Henry Coleman.
In an exclusive interview with TVGuide's Michael Logan, Herring laments that no one from ABC ever contacted her about returning to General Hospital following the October 2003 cancellation of Port Charles. Herring created the role of Lucy Coe on General Hospital in 1985. When the 30-minute GH spinoff, Port Charles, debuted in June 1997, it was seen as a vehicle to further Herring's star status. There was believed to be a clause in Herring's contract that would allow her to return to General Hospital in the event that Port Charles was cancelled.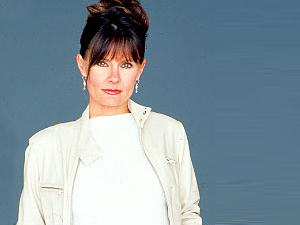 "[General Hospital] had gone in a whole new direction with Sonny and the Mafia [by the time Port Charles was cancelled]," Herring reflects, "and they've done very well by that. I knew Lucy wouldn't fit into that. Her high jinks and her comedic vixeny thing didn't seem to match with that serious tone, so it didn't bother me not to be asked back. I understood. But then when they brought back Finola Hughes [Anna] and Emma Samms [Holly Sutton], I did start to feel bad. I thought, there's gotta be a little space for me! But with Kin Shriner [Scott Baldwin] gone, there weren't many characters Lucy had related to a lot. I guess I was disappointed quite a bit, really. I understood why I wouldn't be offered a full-blown, long-term thing. I just wanted something."
While it's not quite Port Charles, in As the World Turns' Oakdale, Herring will be reunited with several of her former co-stars. The most notable, of course, is Jon Lindstrom (Craig Montgomery) who played Lucy's beloved "Doc," Kevin Collins on both General Hospital and Port Charles. Marie Wilson (Meg Snyder) and Julie Pinson (Janet Ciccone) also appeared opposite Herring on Port Charles, as Karen Wexler and Eve Lambert, respectively.
Since leaving daytime, Herring has focused her attention to two distinctly un-Hollywood jobs: tending to cattle on the ranch where she and husband Wayne Nortrop live near Raymond, California, and operating the Raymond Museum-which she also owns.
In a recent "Where are they now?" feature for a soap opera magazine, it was reported that Herring was content with her life outside the spotlight and had no desire to return to the world of acting. In the TVGuide interview, however, Herring reveals that she submitted her name as a possible recast candidate for the role of The Young and the Restless' Jill Abbott. When the top-rated soap came to terms on a new contract with actress Jess Walton, there was no longer a need to recast the role.
To celebrate her return to daytime television, Herring rang the opening bell at the New York Stock Exchange on June 25.
Herring makes her As the World Turns debut on July 24. The role is tentatively slated to run about six to eight weeks.