It's the end of the line for Alexandra Chando (Maddie Coleman). The Emmy-nominated actress' six-month stint in Oakdale is about to come to an end.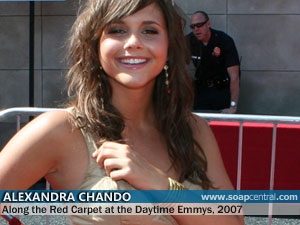 According to a setside source, Chando has already taped her final scenes. An exact final airdate for Chando isn't known because of As the World Turns' frenetic production schedule. The show oftentimes tapes scenes more than two months in advance of their airdate. Soaps typically may tape scenes three to five weeks ahead of time.
Chando left As the World Turns in 2007 -- just months after being nominated in the Outstanding Younger Actress category at the Daytime Emmys -- because the show's writers felt that they could not develop any new story for her character.
When Chando returned to the CBS soap last September, it may have marked the first time that fans saw her in two years -- but it wasn't the first time that fans had seen the character. Maddie appeared briefly in December 2008 and January 2009, with actress Kelly Barrett assuming the role.
Photo: Dan J Kroll/Soap Central