While there is no official confirmation from the show, an insider tells Soap Central that
Jennifer Landon
(
Gwen Norbeck
) and
Jesse Soffer
(
Will Munson
) will return to As the World Turns this spring, in advance of the show's finale.
Soffer joined the show in September 2004, signing on to play the downtrodden Will Munson. He became the fourth actor to play Will, but the first to take on the character as a young adult. When Soffer took over, he brought Will into a new stage of his life by dealing with his character's responsibility for Rose's death, and his reintroduction to life in Oakdale after being incarcerated in a mental hospital.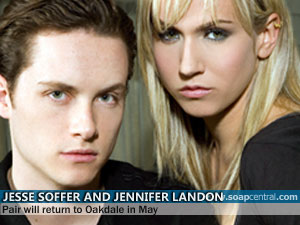 Landon, the daughter of the late Michael Landon, first appeared on As the World Turns in March 2005 in what was supposed to be a one-day gig. Show execs were so pleased with the actress' work that they offered her a long-term contract. By the time Landon returned full-time in May 2005, Will was already envisioned as a potential love interest for the spunky Gwen Norbeck. In 2007, Landon took on the challenge of playing Gwen's look-a-like, Cleo Babbitt, whose time ended on the show after Will foiled Cleo's plot to kill Gwen and take over her life.
Landon pulled off a rare threepeat at the Daytime Emmys, winning the Outstanding Younger Actress trophies in 2006, 2007, and 2008. Soffer, though not an Emmy winner, received nominations in the Younger Actor category in each of the years that Landon won. The pair make their return to week of July 5.
A spokesperson for As the World Turns could not confirm Landon and Soffer's returns.


Photo Credit: Greg Weiner/PGP
---