Emmy nominated Kristina Sisco (Abigail Williams) has opted not to renew her contract with As The World Turns.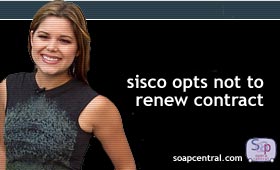 On of the show's original teen characters under then-new head writer Hogan Sheffer, Sisco joined the cast of As The World Turns in August 1999. Sisco remained a vital part of the show's storylines even after her contemporaries Kim Onasch (ex-Jennifer Munson) and Todd Rotondi (Bryant Montgomery) were written off of the canvas.
During her tenure with the show, Sisco has accumulated two Daytime Emmy nominations - in 2001 and 2002 - for Outstanding Younger Actress.
A spokesperson for As The World Turns would not comment on Sisco's exit.
According to a setside source, Sisco is currently working without a contract and will exit early in the fall. The source also states that the role will not be recast.