Mary Beth Evans (Sierra Montgomery) returns to Oakdale later this month in a new capacity: She'll be a contract player for the first time since joining the show in 2000.
For the past four years, Evans has been appearing off-and-on in the recurring role of Sierra Montgomery on As the World Turns. According to sources, Evans was reluctant to move from her homebase in California and set up shop permanently on the East Coast, where As the World Turns is filmed.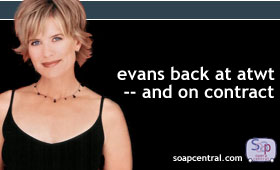 In August, Evans wrapped up what was believed to be her final As the World Turns storylines. Despite the fact that As the World Turns' head writer Hogan Sheffer lobbied CBS execs for more airtime for Evans, the actress was told that there was no immediate story in her future and advised to look for work elsewhere.
Shortly thereafter, ABC announced that it had signed Evans to appear on One Life to Live. A week later, however, the announcement was revoked and it was revealed that Evans would not be leaving As the World Turns after all. A show insider told Soap Central that CBS execs have offered Evans a contract with As the World Turns in order to keep the actress from heading to the competition.
Evans, who was signed to a one-year contract with the show, first airs on November 15.

RELATED STORYOLTL taps Kimberlin Brown for role intended for Mary Beth Evans.