Soap veteran Kimberlin Brown has been signed to appear as a Paige Miller, a doctor on One Life to Live starting later this year. Brown's role was originally intended for Mary Beth Evans (Sierra Montgomery).
Approximately two weeks ago, One Life to Live proudly announced that it had snagged Evans for the role. Evans was about to wrap up a four-year recurring rune on CBS's As the World Turns' Sierra Montgomery. However, last week Evans announced that she had decided to stay with As the World Turns. (Click here for the complete story)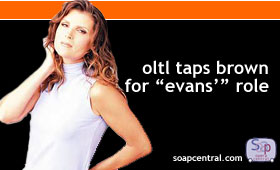 Brown, meanwhile, is certainly no stranger to daytime herself. Brown appeared as Rachel Locke on the now-cancelled ABC soap Port Charles. More recently, Brown reprised her role as Sheila Carter on CBS's The Bold and the Beautiful, a role she had originally created on B&B's sister soap The Young and the Restless
A One Life to Life insider says that the show has not altered the storyline for the new character, despite the actress swap.
Brown is expected to debut in early October and her character will feature prominently in scenes with Asa and Bo Buchanan.
--->
---

RELATED STORY
Mary Beth Evans decides against joining One Life to Live [Aug 30, 2004]
---