What is your opinion of Agim Kaba's upcoming exit from ATWT?

I'm very upset. Kaba was a main draw for me to the show.
48%
I'm curious if Kaba wanted out or if he was let go.
21%
Recasting Aaron would make the character more interesting.
11%
Honestly, I'm really indifferent to Kaba's future with ATWT.
6%
I'm not a big Aaron fan, so writing him out would be good.
6%
I'm disappointed, but I think that it's time for Aaron to go
4%
Other
3%
Poll Posted: January 21st, 2005
The young hunk quotient on As the World Turns is about to take another hit. The show has confirmed that
Agim Kaba
(
Aaron Snyder
) will be exiting the show later this year. According to a show rep, Kaba has "decided to move on" and explore other opportuniries.
Kaba's decision to exit As the World Turns announced exit comes
just a few days after Soap Central first announced
that castmate
AJ Lamas
(Rafael Ortega) had been let go.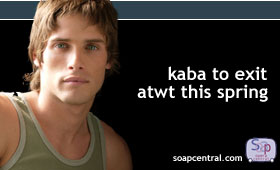 It would seem that Kaba's exit from As the World Turns would leave a void in the show's storylines. For the past several months, Kaba's alter ego, Aaron, has been featured quite prominently in the show's storylines. However, in a recent interview, As the World Turns' head writer, Hogan Sheffer, revealed that there were plans in place in case the character had to be written out for some reason.
"I'm hoping the characters in question don't leave," Sheffer told Soap Opera Digest in December. "But if it happens, we're prepared."
At this point in time, a recast looks unlike. A show spokesperson declined to offer comment on Kaba's exit except to confirm that the actor is, in fact, exiting.
In equally disappointing news for Kaba, he and girlfriend on one year
Elizabeth Hendrickson
(
Maggie Stone
,
All My Children
) recently announced their split. The two remain friends, according to a statement.
Kaba joined the cast of As the World Turns in April 2002. In 2004, the actor was nominated for a Daytime Emmy in the Outstanding Younger Actor category.
Kaba makes his final appearance on April 13, 2005.