Rumors continue to swirl regarding the future of Emmy Award winner Adrienne Frantz's (Ambrosia "Amber" Moore and April Knight) future with The Bold and the Beautiful.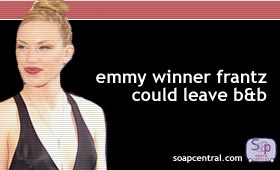 According to online and offline chatter, Frantz has been considering a leave to pursue projects outside of daytime television. However, according to the terms of the actress' current contract with the CBS soap, she does have out clauses which allow her to take on other projects - with approval from show execs.
Frantz and executives have been working to hammer out a new contract for several weeks. The actress' current contract expires in July and some insiders believe that the talks may go right down to the wire.
Perhaps in preparation for Frantz's possible walk, B&B scribes are said to be paring down the dual role storyline Frantz is currently undertaking. However, a show source hints that the storyline changes might be due more to the audience's disinterest in the plot than Frantz's uncertain status.
Frantz, who joined The Bold and the Beautiful in 1997, is a three-time Daytime Emmy nominee for Outstanding Younger Actress. Frantz won the award in 2001 and is nominated again this year.