Though the terms of the deal were not released, Emmy Award winner Adrienne Frantz (Ambrosia "Amber" Moore and April Knight) has inked a contract extension with The Bold and the Beautiful. The new deal will also bring about the end of the actress' dual roles on the show.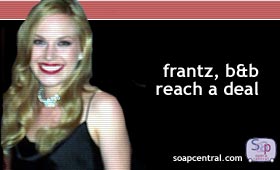 "I'm not telling anyone what it entails," Frantz says. "But I'll be around for a while."
An insider tells Soap Opera Central, however, that the character of April will be phased out over the next few weeks before ultimately leaving town.
According to inside sources, the talks between Frantz and show executives, which went down to the wire, hinged upon Frantz's desire to have "outs" in her contract. These "outs" allow performers to pursue other projects in addition to their work on the show. Because storylines need to be re-written to accomodate an actor's exit for these other projects, some shows are very hesitant to give performers out clauses in their contracts. Frantz's previous contract was said to have these outs built in and the actress wanted them rolled over into a new deal.
Another issue of contention was Frantz's desire to continue her work as April. Frantz told Soap Opera Central that she enjoys the different layers the character provides, but admitted that she wasn't ready to give up on Amber either.
Frantz' old contract with the show was to have expired in July. Again, neither side will say exactly what the deal between them entails. Frantz could very well be around for several years to come -- or she could exit once her storylines are wrapped up.
Frantz, who joined The Bold and the Beautiful in 1997, is a three-time Daytime Emmy nominee for Outstanding Younger Actress. Frantz won the award in 2001 and is nominated again this year.