Little more than a month after word was handed down that Colleen Dion (Felicia Forrester) had been taken off contract because of "commuting" problems comes a statement by The Bold and the Beautiful that Dion will be exiting the show.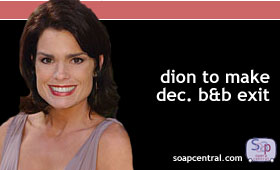 Dion rejoined The Bold and the Beautiful cast in July following a 12-year break from the show. The actress was signed to a one-year contract with the show, but she was downgraded to recurring status in September when it became too difficult to travel from New York (where she lives with her husband and two children) to Los Angeles (where B&B is taped).
"It's true that there have been some snags for Colleen because of her commute," confirmed a show spokesperson. The spokesperson affirmed that the show would work with Dion to help make her schedule as reasonable as possible. That included pre-taping some scenes and otherwise shuffling around the taping schedule.


Rather than recast the role, as had been speculated by much Internet gossip, B&B execs are simply going to write off the character... at least for now.
"We brought Felicia back because we wanted it to be Colleen," stated B&B supervising producer Rhonda Friedman. "If it's not Colleen, we're just not going to have our Felicia."
Friedman did, however, indicate that the door would be left open for Dion to return at a later date if her schedule permitted.
Dion's last airdate will be December 3rd, 2004.